"Domestically Grown Blended Canola Oil" is new !
"Domestically Grown Blended Canola Oil" is new and improved!
We have increased the ratio of domestically grown canola in raw material from 10 % to 30%.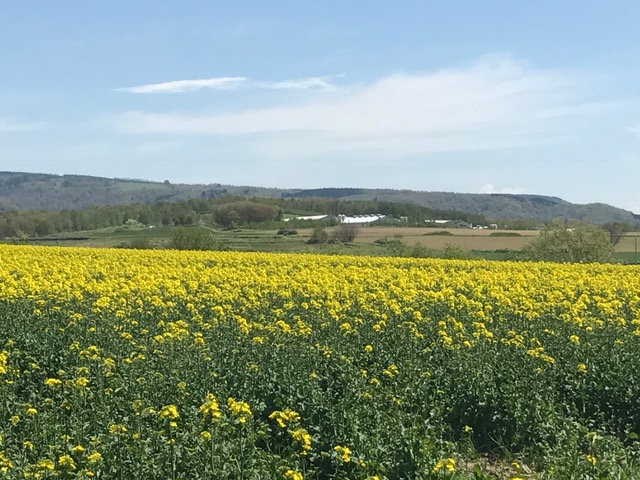 Photo: Canola field in spring (Hokkaido, May 2018)
"Domestically Grown Blended Canola Oil" is one of the long-standing popular products for the members of Seikatsu Club Consumers' Co-operative. 10% of its raw material was domestically grown canola while 90% was non-GM canola from Australia.

Seikatsu Club has been urging all parties concerned to prevent the spread of GM canola and to increase the production of domestically grown canola. In recent years, canola acreage in Hokkaido, which is the main production area, has increased, the harvest increasing dramatically in the autumn of 2017. That is why we have increased the ratio of domestically grown canola in our "Domestically Grown Blended Canola Oil" from 10% to 30% (beginning March 2018).

By consuming large volumes of Seikatsu Club canola oil that does not use GM raw materials, many members can support the production of non-GM canola both domestically and internationally. Furthermore, this will support the continuous production of agricultural products in the country, which will lead to a higher food self-sufficiency rate.
non-GM=not Genetically Modified
No dependence on GM canola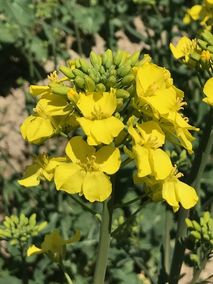 A carpet of yellow flowers announces the arrival of spring. Rape flower fields used to be seen everywhere in the past. In towns and villages all over Japan, there were small factories which crushed the rapeseed and sesame seed brought in by farmers.

The oil produced at such factories was used as valuable cooking oil, and especially rapeseed oil was used as fuel for lights. Rapeseed meal was used as a good quality fertilizer for crops. This was the kind of circulation that existed in local areas.

However, since the 1950s and 60s, when major oil manufactures began producing oil on a large-scale, large volumes of cheap cooking oil appeared on the market. Since the deregulation of canola imports in 1971, foreign canola has been imported on a large scale and at cheap prices, causing domestic production of rapeseed to be sharply reduced. The yellow rape flower fields gradually disappeared.

In recent years, the rapeseed self-sufficiency rate is about 0.1 percent, and Japan depends almost completely on imported GM canola. In addition, as there is no mandatory GM labeling on cooking oil, we have the problem that consumers cannot see whether the oil is produced from GM raw material or not.
Both acreage and production of domestically grown canola have increased
Seikatsu Club informed our partners in Canada and Australia, where canola is grown, of our will to continue using non-GM canola. However, in Canada, which was the main source of imports, purchase of non-GM canola became difficult as many farmers switched to GM very rapidly. We therefore changed our source of imports to Australia. The planting of GM canola has also gradually expanded in Australia.

For the production of domestic canola, Seikatsu Club established the "Seikatsu Club Domestic Canola Council" together with production areas, producers, and so on (2005), and has urged national and local governments to promote agricultural policies that support stable production in the production areas. In recent years, there has been a boost in grants and the planting areas are expanding.

In the autumn of 2017, we decided to raise the domestic canola blend rate from 10 percent to 30 percent because good weather had led to a good harvest in the Hokkaido production area. The price is unchanged, and we will support the increase in production of domestically grown canola by increasing the consumption of our canola oil.
No use of synthetic chemicals
"Washed using hot water"
"Domestically Grown Blended Canola Oil" and "100% Domestically Grown Canola Oil" have a slightly greenish golden color. Green is the color of the chlorophyll contained in the canola. It is a natural color because it is "the first squeeze," which is not extracted and refined using synthetic chemicals.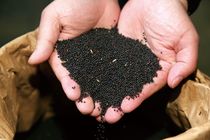 Generally, a solvent called "normal hexane" is used to extract oil from raw materials. Using a solvent ensures that the oil in the raw material is fully extracted, thereby increasing production efficiency. In addition, it is a common practice in the cooking oil industry to use synthetic chemicals such as phosphoric acid water, caustic soda, activated clay, and so on, in a refining method to remove impurities from the oil.

However, as a partner producer, Yonezawa Oil Manufacturing Co., Ltd. sticks to the method of crushing and refining without using synthetic chemicals such as solvents in the belief that it is vital to "make safe and secure oil."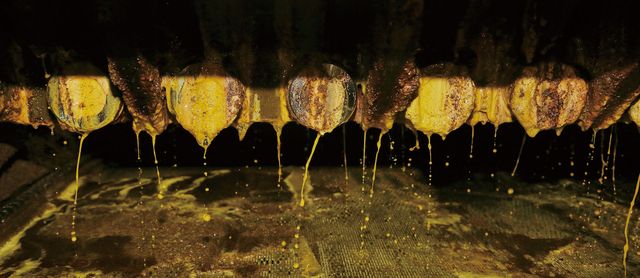 Photo: Inside the presser. The "first squeeze" canola oil is obtained by applying pressure

The oil extraction method uses only "squeezing," placing physical pressure on raw materials. The purification method used a "hot water washing method" developed for the first time in the world. The method mixes the oil with hot water, centrifuges the mix to melt impurities into the hot water, "washing" the oil. The company has obtained a manufacturing patent for the method.

Canola oil which does not use synthetic chemicals at all in the process of oil crushing and refining is rare on the market. In addition to the use of non-GM raw material, it is an edible oil produced by the leading "safe and secure" manufacturing method.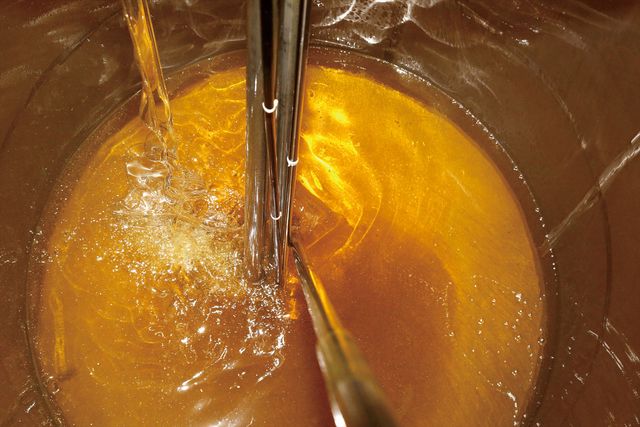 Photo: Canola oil after washing with hot water and removing impurities by filtration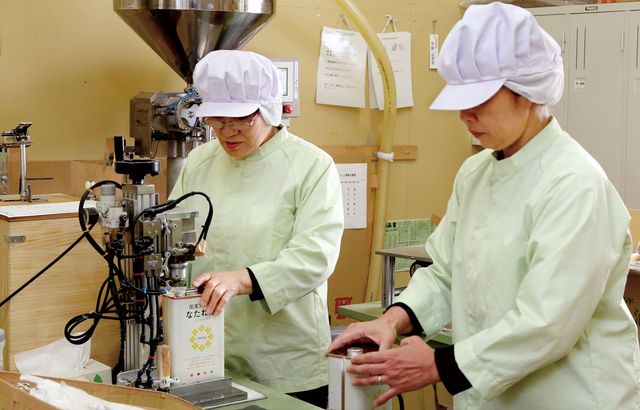 Photo: Cans being filled with refined canola oil
Supporting the stable production of domestically grown canola by consuming "Canola Oil"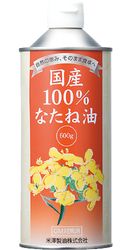 Currently, Hokkaido and Aomori are the production centers of domestically grown raw materials for canola oil. In both areas, canola is cultivated as one crop in a rotation system that rotates several crops to convert land from rice paddies and to prevent continuous cropping failures. In Aomori, potatoes, and in Hokkaido soybeans, wheat, soba, and beets are planted in rotation. For farmers, canola is an attractive crop to incorporate into crop rotation because it is relatively easy for farmers to take care of after planting, easier to divert existing equipment, and also reduces the amount of fertilizer used before the next crop.

However, it will become difficult for farmers to continue to cultivate canola unless farmers' incomes, including production costs, are guaranteed. If we continue to consume our "canola oil" in the long-term future, this will lead to an improvement in the self-sufficiency rate and stable production of domestically grown canola.

We will continue to consume our "Domestically Grown Blended Canola Oil" and "100% Domestically Grown Blended Canola Oil" produced from non-GM raw material and using hot water washing to support the production of domestically grown and non-GM canola.
【Posted on 26 February 2018】
生活クラブをはじめませんか?
42万人が選ぶ安心食材の宅配生協です
資料請求で
選べる無料プレゼント!

詳しくはこちら