Seikatsu Club wind turbine "Yumekaze"
Lively exchange activities and regional revitalization spread from Seikatsu Club wind turbine "Yumekaze"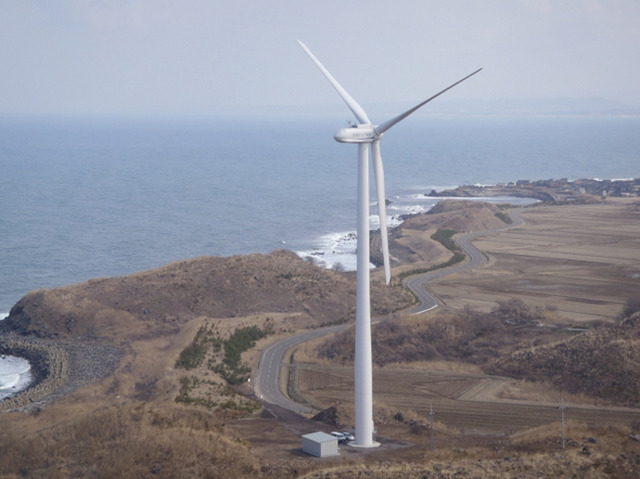 Seikatsu Club has been involved in various activities to pave the way to a nuclear-free society. Under our principle of "producing" renewable energy, "reducing" energy consumption and "using" renewable energy, we began the collective purchase of electricity in 2016 as a concrete effort.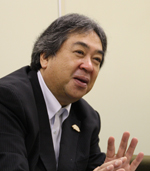 The major characteristic of "Seikatsu Club Electricity" is that it enables us to engage in the collective purchase of electricity with a high percentage of renewable energy. The starting point of this "Seikatsu Club Electricity" initiative was the Seikatsu Club wind turbine "Yumekaze", which was built in Nikaho City, Akita Prefecture, in 2012.

Six years after its construction, "Yumekaze" is expanding beyond just being a facility supplying renewable energy. Akihiro Hanzawa, CEO, Seikatsu Club Energy Co., Ltd. (Executive Director, Seikatsu Club Consumers' Co-operative Kanagawa) talks about how "Yumekaze" is doing right now.

Up to building the Seikatsu Club wind turbine "Yumekaze"
Over a span of 50 years, Seikatsu Club has pursued "safety", "health", and the "environment" while promoting our collective purchase in cooperation with our producers all over Japan. Regarding the reduction of environmental burdens, we had been focusing on energy saving, such as the reuse of bottles and egg boxes, and promotion of natural soap without synthetic detergents. However, electricity and energy are indispensable to our lives as well as food. In the Seikatsu Club we had been discussing the importance of proactively creating renewable energy, so-called "natural energy creation", in order to protect the environment.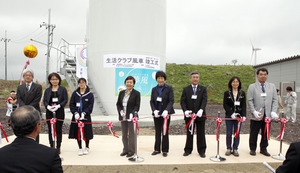 Based on these discussions, we came up with the idea of building a wind turbine as a milestone to celebrate the 40th anniversary of Seikatsu Club Kanagawa in 2010. Eventually, four Seikatsu Clubs in the metropolitan area, Tokyo, Kanagawa, Saitama, and Chiba, decided to build the wind turbine as a joint project.

Once we decided to go ahead with this, we thought we should attempt to construct a successful sustainable business model. We examined quite a number of candidates for the construction site, eventually choosing Nikaho City, Akita Prefecture, as the final location for the construction because it has a favorable and steady wind speed and good wind conditions. The wind turbine began operation in March 2012. "Yumekaze" was named after an idea by a local elementary school student.
Wind turbine triggers exchange activities
That's how we started the project, but at the time we still did not have a fixed-price buying system (a system where electric utility companies have an obligation to buy electricity generated by renewable energy sources at a fixed price). This made it very difficult to build and operate wind turbines. There was still a huge lack of understanding of wind turbines. In addition, a great deal of discussion arose within Seikatsu Club because it was the first time for Seikatsu Club to become involved the field of "energy creation".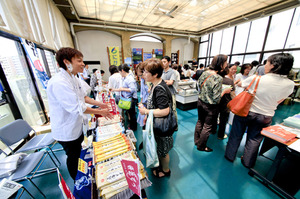 What was unique for Seikatsu Club was that some people said it was necessary to aim at active relations that would generate positive effects in the local community instead of simply having people in the city build a wind turbine in a rural area and buy the electricity generated there. That is how the exchange activities between the members of Seikatsu Club and people in Nikaho City started. It is not only about "energy" – we have strengthened our partnerships by exchanging goods and through human interactions.
*Photo: Exhibition of local products from Nikaho City held at Seikatsu Club Kanagawa
Purchase of agricultural products and introduction of environmental education at elementary schools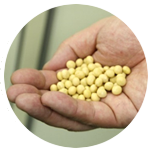 Stemming from these partnerships, we are also expanding efforts to purchase agricultural products from Nikaho City, for example tomatoes for processing and soybeans as ingredients for Seikatsu Club consumer materials. In elementary school classes, we have also begun to utilize this "Seikatsu Club wind turbine Yumekaze" as material for learning about energy. This is a short course that responds to elementary school children's natural curiosity after seeing the place where the wind turbine is actually rotating, and looking inside the wind turbine.
*Photo: Soybeans produced in Nikaho City
A special wind turbine that has a "face" local people can see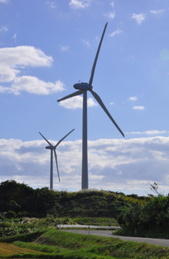 Due to the good wind conditions, there are many wind turbines in Nikaho City other than that of Seikatsu Club, but in many cases these are wind turbines about which local people say, "I do not know who owns it," and people rarely go inside the turbines. However, the Seikatsu Club wind turbine seems to be a "wind turbine with a face local people can see" and they also know who operates it through the exchange activities. "Seikatsu Club Wind Turbine Yumekaze" is the best-known wind turbine among more than 10 wind turbines in Nikaho City. Local people say "Seikatsu Club wind turbine reminds me of the faces of Seikatsu Club members" or "I get worried when the Seikatsu Club wind turbine does not turn." I feel that "Yumekaze" is a special wind turbine for local people. We are working on efforts, such as an agreement for disaster prevention, to deepen the partnership and exchange between Nikaho City and Seikatsu Club in the future.
*Photo: View of Yumekaze from a prefectual road
From renewable energy to a new model to create local autonomy
As described above, renewable energy has the characteristic of being able to generate electricity on a small scale and in a decentralized manner. It can be a model of self-sufficiency and autonomy in which the region and the people are connected, energy is generated, and money is brought to the region. We want to create as many examples as possible to show that a system based on renewable energy will lead not only to a nuclear-free society but also to a revitalized local society. That is the goal of Seikatsu Club.
(Interview with Akihiro Hanzawa, CEO, Seikatsu Club Energy Co., Ltd.)
(Posted on March 13)
生活クラブをはじめませんか?
42万人が選ぶ安心食材の宅配生協です
資料請求で
選べる無料プレゼント!

詳しくはこちら