GMO-Free Zone National Exchange Meeting in Narita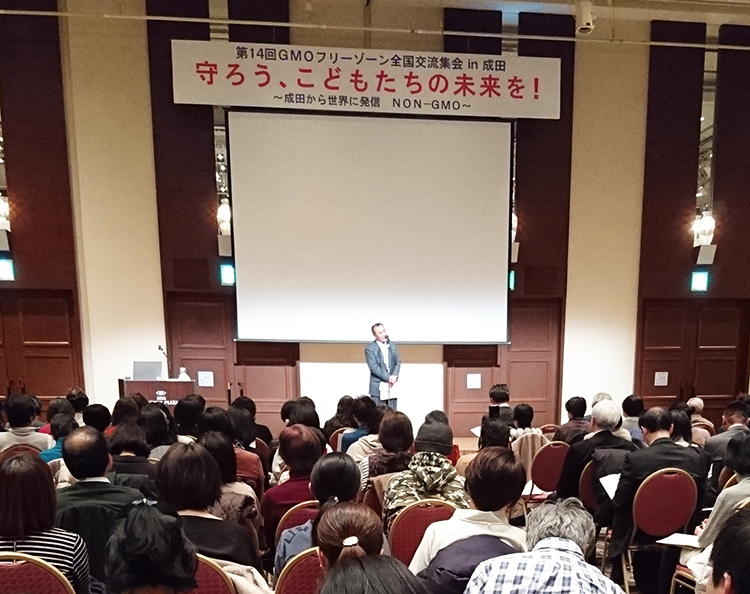 360 people participated in the meeting held in Narita City
100 Seikatsu Club Members Participate in the GMO-Free Zone National Exchange Meeting in Narita
On March 2, the 14th GMO-Free Zone National Exchange Meeting in Narita was held in Narita City, Chiba Prefecture, under the theme of Protect our Children's Future! A total of 360 people participated in the meeting, including 100 Seikatsu Club members.

*GMO = Genetically Modified Organism
*GMO Free = No GMO crops grown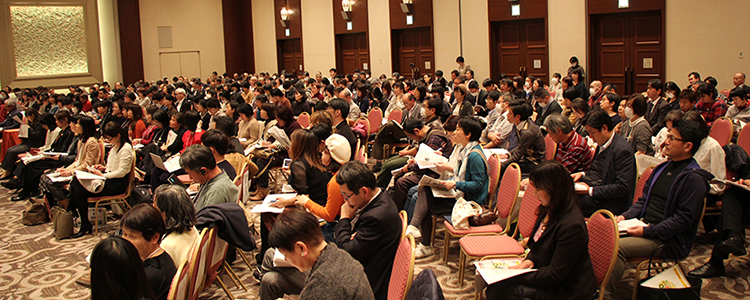 The GMO-Free Movement is Spreading Worldwide
Mr. Keisuke Amagasa (representative of the No! GMO Foods Campaign) gave the keynote speech, titled Genome-edited Foods: Are we Human Guinea Pigs? In the speech, Mr. Amagasa pointed out the problems of new genetic engineering technologies such as genome editing technology. Stating that "There is no gene that is OK to destroy," Mr. Amagasa cast doubt upon the plants and animals that are being developed by blocking the functions of specific genes using genome editing technology.

In reports from local areas, Mr. Kazuhito Horikoshi (Sanrizuka Microorganic Farming Enzyme Association), who served as the chair of the Executive Committee for the meeting, spoke of the significance of holding the meeting in Narita this year by saying, "Narita City resisted the mammoth national project of the airport construction and is a place where we have promoted movements rooted in the community through organic farming. To protect our children's future, we need to link up with consumers for understanding and action. The GMO-Free movement is one of these activities. We are now pushing ahead with community recycling farming and our crops are also being used in school meals. The expansion of GMO-Free Zones protects farming that aims for an increase in the rate of food self-sufficiency and food safety, and also broadens solidarity."

In another report from the local areas, Mr. Isao Takayanagi ("Thanks-to-You" Farm) spoke about the principles and practices of his farm, founded on the theme of "food is life." Mr. Takayanagi founded his farm after passing through periods of direct sales of farm produce to the residents' associations of housing complexes and consumer co-operatives.

Participating from South Korea, the South Korean GMO Opposition Nationwide Movement reported on the continuing survey on GMO rapeseed wild volunteer plants, conducted jointly with local administrations, after large-scale contamination was brought about by GMO-contaminated rapeseed imported from China. From Taiwan, members of the Taiwan GMO-Free Promotion Alliance, which is taking action on the school meals problem, participated in the meeting, reporting on the implementation of a ban on the use of GMO food in school meals as a result of public pressure on the government.

The nationwide GMO-Free Zone area has expanded by 3,663 ha since last year to become 99,187.37 ha this year. Individual supporters increased by 2,739, reaching a total of 16,090 people.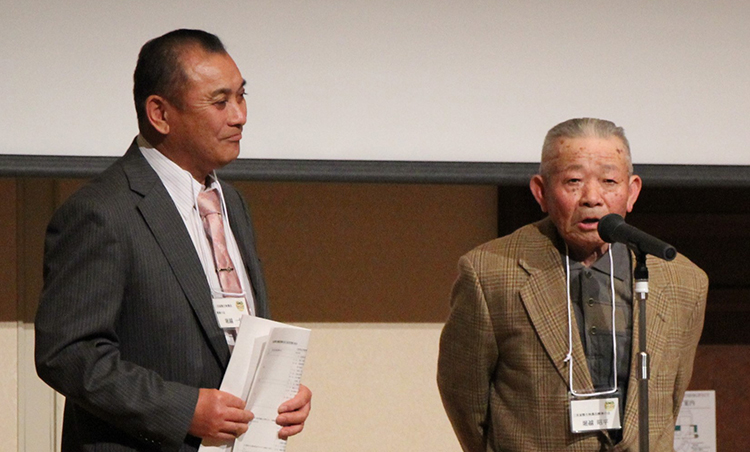 Mr. Kazuhito Horikoshi (left) and his father, Shohei, who is still farming at 90 years of age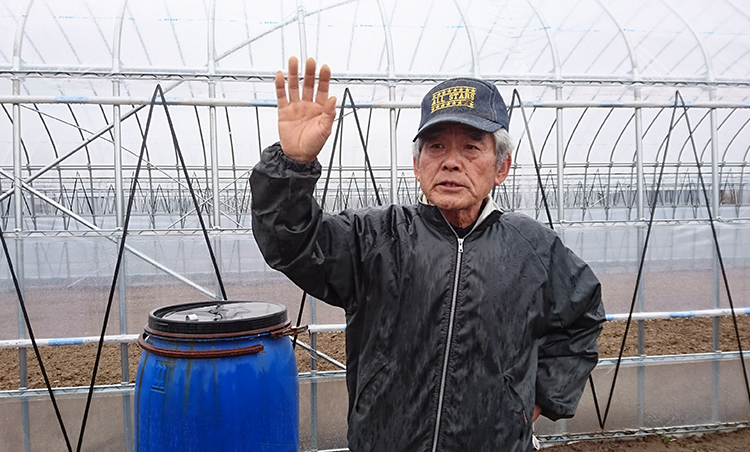 Mr. Takayanagi speaking at his Thanks-to-You Farm, visited as an optional tour on the day after the meeting
The GMO-Free Zone Movement is Moving Steadily Forward in All Seikatsu Club Areas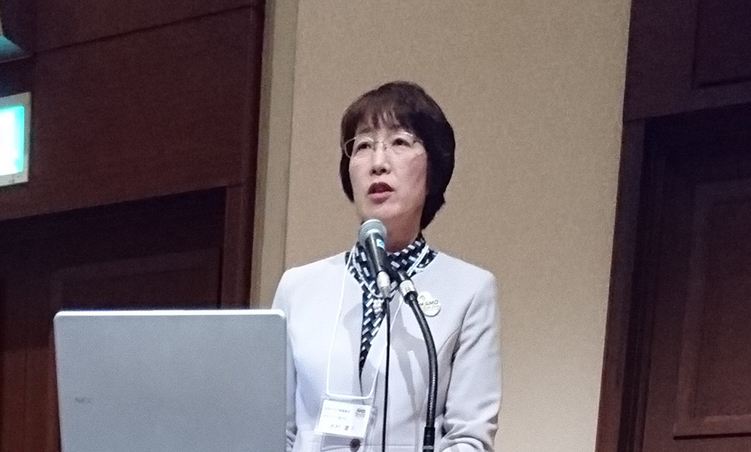 In the relay reports from organizations making efforts for the GMO-Free Zone Movement, Seikatsu Club Consumers' Co-operative Union Director Ms. Tsuneko Kimura (Seikatsu Club Chiba) reported on Seikatsu Club's activities. GMO-Free Zone registrations are expanding, with tomato producers in Numata Town, Hokkaido, where the raw material for Seikatsu Club's tomato ketchup is produced, declaring a GMO-Free Zone and 25 ha of pasture being registered as a GMO-Free Zone by members of the Satsuraku Agricultural Co-operative, producers of Seikatsu Club's Hokkaido milk. In FY2018, Seikatsu Club's GMO- Free Zone area increased by 27.9 ha to 63,547.0 ha, with 1,959 new supporters registering to reach a total of 10,211 people, exceeding the 10,000 mark for the first time.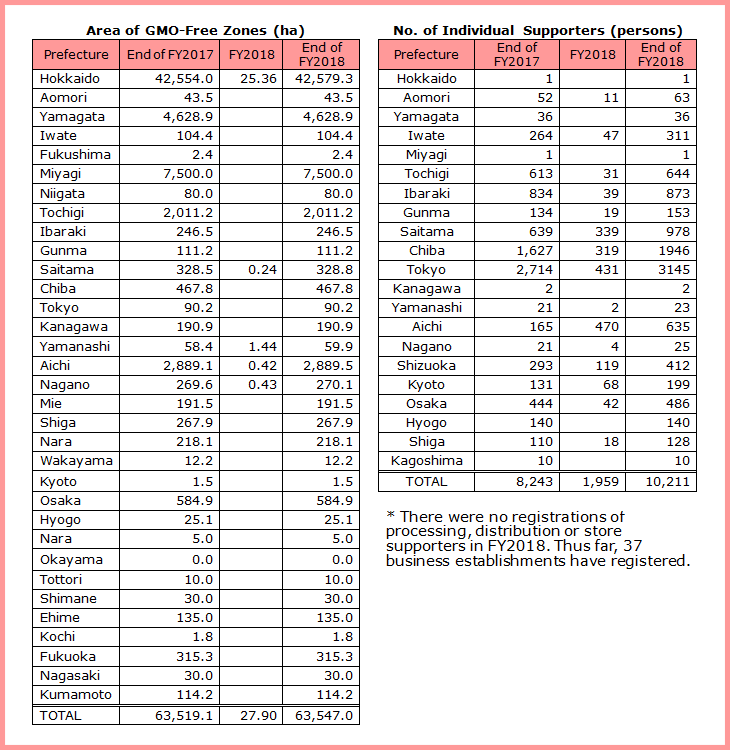 Ms. Kimura also mentioned the annulment of the Main Crop Seeds Act, saying, "The future of Japan's seeds is under threat, but to protect the seeds we are taking action in Chiba Prefecture along with our friends in other consumers' co-operatives, producers and others in a movement to enact a seed ordinance. Working together with all of you from around the country, we would like to have this lead on to a GMO-free, rich and abundant environment for the next generation."

Ms. Erina Kikuchi, who participated in the meeting from Seikatsu Club Iwate, said that she "found it outrageous that we are being made human guinea pigs" by the government, which is promoting the use of genome editing technology. "The way to resist this is through expanding GMO-free zones. In Iwate, we have had 47 new registrants this fiscal year to bring us to a total of 311 supporters. Each one of us believes that the most important thing is to 'know and link up with others,' and I feel that it is crucial that we do this."
Published on April 8, 2019
生活クラブをはじめませんか?
40万人が選ぶ安心食材の宅配生協です
資料請求で
選べる無料プレゼント!

詳しくはこちら