"Creating a 100% Renewable Energy Future" Forum
300 Members Participate in the "Creating a 100% Renewable Energy Future" Forum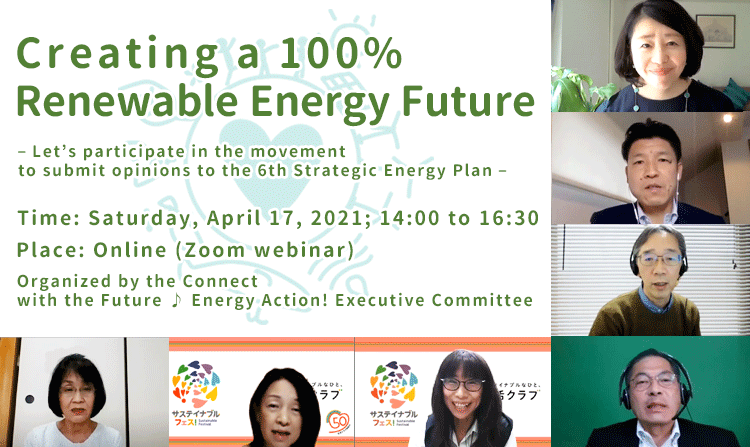 Seikatsu Club held a "Connect with the Future ♪ Energy Action!" Study Meeting

The "Creating a 100% Renewable Energy Future – Let's participate in the movement to submit opinions to the 6th Strategic Energy Plan –" was held online on April 17, 2021. (Moderator: Ms. Kumi Azegami, Director of Seikatsu Club Chiba)

By the end of June, Seikatsu Club will develop the "Connect with the Future ♪ Energy Action!" (hereafter, "Energy Action") to lobby the government for incorporation of renewable energy (hereafter, "RE") into the government's Strategic Energy Plan, which is scheduled for revision in the autumn of this year.

The Energy Action Executive Committee organized the forum in order to promote activities with a large number of colleagues who share the same sentiments. More than 300 members participated in the event online, welcoming lecturers and panelists with a wide range of experience and knowledge.
Seikatsu Club's Energy Action – Aiming for RE, Decarbonization and Denuclearization
The Strategic Energy Plan, scheduled for revision this autumn, is Japan's basic policy for energy. In addition to setting out policies for the achievement of the energy mix in 2030, it also defines the ideal state of energy use as Japan moves toward the year 2050. As we are now in a situation where the Earth is overheating and there is no time to lose in the taking of countermeasures against the climate emergency, this will be a very important revision of the Strategic Energy Plan that will determine the direction of Japan's energy policy for the foreseeable future. Seikatsu Club is engaging in lobbying activities to encourage the government to promote RE, decarbonization, and denuclearization.

The forum consisted of two parts, a keynote speech and a panel discussion by experts who spoke on the actions necessary for each country's efforts to realize of a future based on 100% RE. At the opening of the event, Ms. Kazumi Masuda, Chairperson of the "Energy Action" Executive Committee and a board member of Seikatsu Club Consumers' Co-operative Union, greeted the participants as follows.

"While 10 years have passed since the Great East Japan Earthquake, and new town construction is progressing, people's hearts, hometowns and environment are still in the midst of the process of recovery. The use and expansion of RE is necessary to move toward the immediate abolition of nuclear power plants and the realization of a decarbonized society. Bringing together people who think and act on their own initiative and acting as a large group of people will have a great impact on society. This action is an opportunity to transform society. I hope that all of us will push forward with these activities together."
For the Realization of a 100% RE Society that does not Rely on Fossil Fuels or Nuclear Power
Ms. Mika Obayashi of the Renewable Energy Institute (REI) gave the keynote speech. Following the accident at Tokyo Electric Power Company's Fukushima Daiichi Nuclear Power Station in 2011, REI was established to create a society based on RE. REI mainly conducts policy research on RE for the purpose of policy proposal activities.

Under the theme of "The Accelerating Global Energy Shift and Decarbonization: Toward a 100% RE Society," Ms. Obayashi talked about the situation regarding decarbonization in the world and Japan, and the steps needed to realize a 100% RE future.

RE accounted for 80% of the new total power generation capacity introduced worldwide in 2020. In particular, solar and wind power generation are growing, supported by what could be described as destructive price declines. Solar and wind power generation are currently around the price range of 1/3 to 1/4 of that of nuclear power generation. However, coal-fired thermal power generation is still the cheapest power source in Japan. Unless Japan keeps pace with global trends, it may end up wasting vast amounts of money.
As a countermeasure to the climate emergency, it is also important to establish RE as the main source of power. In Japan, carbon dioxide (CO2) accounts for about 90% of greenhouse gas emissions, and about 90% of these emissions are energy related. At the end of last year, the government declared a "carbon neutral" policy that aims to reduce overall greenhouse gas emissions to zero in 2050. To achieve this goal, the 2030 target should be raised from a reduction of 22% to 24% of CO2 emissions to more than 45%.

REI is also proposing to the government that abandoned farmland and unused golf courses could be used to increase the number of RE power plants. Price is also an important factor to bear in mind when planning an increase in the number of users along with the expansion of power plants. We believe there is a need to impose some kind of penalty on power generating methods that emit greenhouse gases to make RE competitive with the price of existing coal-fired thermal power generation. For example, there may be a necessity for "carbon pricing," which sets a price that utilities must pay for emitted carbon.

In the world today, there is an increasingly active movement to promote RE on the power demand side. If RE is not promoted in Japan, it will become impossible to shift the energy used by businesses to RE, and Japan may lose its international competitiveness.

In summary, I believe the following five steps are necessary to achieve a 100% RE society.
① Clarify energy shift strategies for 2030 and 2050
② Conduct regulatory reform to accelerate the introduction of RE, and improve/strengthen the operation of the transmission network
③ Reduce energy demand and promote electrification
④ Review the hydrogen strategy
⑤ Introduce carbon pricing in the mid-2020s
Steady progress on each of these measures will make it possible to realize a world that does not rely on fossil fuels or nuclear power.
Considering the Realization of 100% RE from Various Perspectives, Including Institutional Reform, Community Links, Power Plant Construction and Member Activities
In the second half of the forum, four panelists participated in a panel discussion coordinated by Akihiro Hanzawa, Director for Energy Policy, Seikatsu Club Consumers' Co-operative Union.

The first panelist was Professor Hiroshi Takahashi from Tsuru University, who reported on the theme of "Making RE the Main Power Source - Eliminating Grid, Siting and Market Constraints".

Mr. Hiroshi Takahashi
"There are three issues that must be addressed to make RE Japan's main power source: the intermittency of RE, the siting of power stations, and the high cost of the electricity rates. However, all these challenges can be overcome by regulatory and institutional reforms. For example, intermittency can be solved by eliminating grid constraints, such as allowing RE operators to use existing transmission and distribution networks fairly. Restrictions on the siting of power plants can be solved by revising the rules to allow the use of abandoned farmland and national forests for RE, and high electricity rates can be mitigated by creating an environment in which fair competition can be achieved."
The second panelist was Professor Koji Maruyama from Nagoya University, who citied actual case studies to explain local reactions to RE projects under the title "Social Acceptance for the Expansion of RE."

Mr. Koji Maruyama
"RE is essential for the realization of a sustainable society, but with the construction of numerous power plants across the country, there is growing concern in the communities where power plants have been sited. Simply emphasizing benefits to society as a whole may lead to local citizens treating power plants as a nuisance. It is crucial to share information with the community at an early stage and build consensus. As with the "Dream Wind," a Seikatsu Club windmill constructed in Nikaho City, Akita Prefecture, it has been found that interacting with and creating various benefits for the community makes it easier for the local people to accept the RE facility."
The third panelist was Mr. Kunimichi Chiba, Vice President of Iitate Electric Power Company, Fukushima Prefecture, which supplies electricity to Seikatsu Club Electricity. Under the theme of "An Appeal from Local Energy in Fukushima Prefecture - Do not Extinguish the Fire of Denuclearization," Mr. Chiba talked about his feelings when constructing a power plant and the current state of Iitate Village.

Mr. Kunimichi Chiba
"Under the impact of the Fukushima Daiichi Nuclear Power Station accident, the whole of Iitate Village was forced to evacuate for six years beginning in April 2011. Radioactivity robbed us of our life in a peaceful village, and we are now in a situation where young people are not returning to the village. Iitate Electric Power Co., Inc. was established by local volunteers in 2014. By distributing small-scale solar power plants throughout the village, the project aims to contribute to the local community in a variety of ways, including job creation and an increase in the number of people who interact with the community. I would like to encourage many people to choose RE sources so that we can realize further diffusion of RE and the elimination of nuclear power generation."
Ms. Miyuki Kinoshita, a board member of the Seikatsu Club Consumers' Co-operative Union, appeared as the fourth panelist.

Ms. Miyuki Kinoshita
Under the title of "Activities of Seikatsu Club for a Sustainable Future and Actions toward the Revision of the Strategic Energy Plan" Ms. Kinoshita reported on the Seikatsu Club's campaign to phase out nuclear power, its efforts to promote RE, and the "Energy Action."
Small-Scale Power Plants through Citizen Participation are the Key to the Future of Energy
After each report, the speakers gave their opinions and impressions.

Ms. Obayashi of REI offered the comment that "I believe that both climate change and nuclear power will result in the passing on of invisible threats to the next generation. I felt once again that the climate change countermeasures and energy plans that are supported by this kind of energy generation, are not options that will enable us to live safely and securely in the future."

Professor Takahashi of Tsuru University said, "The keyword for institutional reform is decentralization. Involving lots of different people in small-scale projects is what will lead to social change. I feel that this is the essence of the energy shift. Power companies with roots in local areas and new small-scale market entrants will be very important in the future."

Responding to the question "What do you mean by getting a mixed reaction when you try to justify RE through climate change mitigation?" put to him by the members, Professor Maruyama of Nagoya University said, "I mean that local opposition will arise If the community senses the message that it is inevitable that the local environment will be sacrificed for the promotion of RE in response to climate change. Setting up RE is, of course, important, but it is also important to enrich society through its introduction and not force the next generation to suffer disbenefits. I think it was excellent that Seikatsu Club aimed right from the start for RE that coexists with the community where the power plant was constructed."

Mr. Chiba of Iitate Electric Power Co., Inc, said, "As I learned about the various power generation methods such as solar power, wind power, and geothermal power, I realized the importance of RE as opposed to nuclear power. Moreover, as a citizen, I understood that 'it is vital to make my own electricity.' I hope that many of you will hold to the perspective that the promotion of RE will lead to a civic movement."

Ms. Miyuki Kinoshita expressed her determination by saying, "I feel that the best thing about Seikatsu Club is that we can create things that we don't have, increasing the number of people who sympathize with us, and thereby changing society. Each of us has only a very small amount of power, but I have come to the realization that if we have more companions, our power will grow. I hope that we will be able to push this energy action forward together with a great number of people."

Concluding the panel discussion, Director for Energy Policy, Akihiro Hanzawa, summed up as follows.

Mr. Akihiro Hanzawa
"As well as written opinions, Seikatsu Club also submits to the government the results of signature campaigns signed by large numbers of people. During this discussion, the panelists gave us many ideas for future actions. I understood that RE is the key that will determine the kind of society we pass on to our children in the future, and that citizen participation is crucial. Furthermore, I also learned that small-scale decentralized power plants will play a vital role, and that it is important to ensure transparency and full accountability to avoid social divisions during the promotion of RE. I think we should also inform as many people as possible that nuclear power plants are not acceptable under any circumstances."
Turn the Activities of the local Seikatsu Clubs into a Great Upsurge to Change the Future
Representing the Executive Committee that is promoting the Energy Action in each of the areas, three of the committee members presented messages to the participants based on the contents of the forum.

Ms. Mako Ando
Ms. Mako Ando, a board member of the central Tokyo 23 Ward Minami Seikatsu Club, said, "The talks by the lecturers and panelists have given us power to promote activities that will bequeath to our children a future that is similar to what we have today. I would very much like to transmit this enthusiasm to everyone around me."

Ms. Keiko Yamaguchi
Next, Ms. Keiko Yamaguchi, a board member of the Kawasaki Seikatsu Club, gave an introduction to "Energy Action," as well as the activities of the "Climate Crisis Action Kawasaki" which Kawasaki Seikatsu Club is promoting together with community residents.

Ms. Yamaguchi then called for participation in the actions, saying, "We are creating awareness of the climate crisis through our call for signatures, and are increasing the number of people who want to change society. Let's push forward with actions we can take to ensure our children can live with hope for the future."

Ms. Kasumi Ogura
Ms. Kasumi Ogura, a board member of Seikatsu Club Osaka, then read out the Forum Declaration, which states, "We will drive forward with the movement to submit our Seikatsu Club opinions to the government and will promote RE.

The third message from the Executive Committee was delivered by Mr. Motoharu Miyaji, Secretary General of the producers' organization Shinseikai, who spoke as follows.

Mr. Motoharu Miyaji
"In recent years, natural disasters such as typhoons and floods, as well as global overheating, have had a major impact on production activities, agriculture and fisheries being no exceptions to this. Doing whatever they can, our producers have been installing solar panels on their buildings and encouraging the use of Seikatsu Club Electricity. I felt once again that it is our duty to ensure the stable supply of our goods to the members and to make sure we leave behind an intact world for the children of the future."
To conclude, Ms. Kaoru Sakurai, Vice Chairperson of the Energy Action Executive Committee and a board member of the Seikatsu Club Consumers' Co-operative Union, gave a short speech to summarize the points emphasized in the forum.

"The speakers have raised a number of topics from various angles using the latest information. The climate emergency and the coronavirus crisis are said to be the result of excessive capitalism. In order to truly overcome these two crises, we must change the structure whereby we are either exploiting some area somewhere, some people, or the future. Today's forum has made it clear that our choices hold crucial keys to the resolution of such crises. Let's all move forward together by creating a huge upsurge of energy action in each area."
The Seikatsu Club is currently conducting a signature campaign calling for the promotion of RE, the immediate abolition of nuclear power plants, and the elimination of coal-fired thermal power generation by 2050 to be incorporated into the national Strategic Energy Plan, scheduled to be revised this autumn. We would like to ask you to cooperate with the signature campaign if you agree with its stated goals.
A video of this forum can be viewed on the Seikatsu Club Consumers' Co-operative Union YouTube channel at the link shown below.
https://youtu.be/wBucOdvCh2g
(The video will be available for viewing until June 30, 2021)
[Published on May 21, 2021]
生活クラブをはじめませんか?
42万人が選ぶ安心食材の宅配生協です
資料請求で
選べる無料プレゼント!

詳しくはこちら