Annual Survey on the GM Rapeseed Growing Wild
Results of the FY2021 GM Rapeseed Volunteers Survey Finalized
Of 503 samples taken, 12 tested positive for GM content

"Yokohama Minami" GM rapeseed monitoring activities – from Rapeseed Flower Watching
Every year since 2005, Seikatsu Club has conducted a survey on genetically modified (GM) rapeseed volunteers, GM plants that have grown in the wild from spilled GM seed. On July 10, a nationwide meeting to report the results of surveys was held in Tokyo (organized by the No! GMO Food Campaign), at which an interim report on the FY2021 Seikatsu Club survey results was given. The results, including those gathered after the meeting, will be reported at a meeting to exchange views with relevant ministries and agencies on September 30.
Ingenious research activities even in the midst of the COVID-19 crisis
Due mostly to seed spillage during transport, GM rapeseed volunteers grow mainly around ports where the seed is imported and unloaded, and along highways leading to oil plants. In surveys conducted by Seikatsu Club to date, GM rapeseed has also been discovered in Otaru Port and Hachinohe Port, which are not importing rapeseed, and in the inland Maebashi City, Gunma Prefecture. In addition to the spread of GM rapeseed volunteers being confirmed in areas other than along rapeseed transportation routes, crosses between GM rapeseed and other plants have also been discovered around Nagoya Port.

Continuing on from FY2020, the survey was conducted amid restrictions due to the impact of the novel coronavirus, but surveys were conducted in 19 prefectures and 503 rapeseed samples were tested, 70 more than last year. 12 samples (including false positives in the primary test) were found to be positive.
Surveying the Yokohama Port Area with Children
Ms. Sumie Masuda of the Yokohama Minami Seikatsu Club, which has been conducting surveys around the rapeseed-importing port of Yokohama, gave a report at the national report meeting on July 10. Members of the Yokohama Minami Seikatsu Club have been conducting monitoring activities every spring since 2005.

"I first participated six years ago, but three years ago, the number of rapeseed flowers growing here increased and we started getting positive test results," says Masuda. "This is also the time when the cherry blossoms bloom during the spring vacation, so up to that time, we used to take lunch boxes with us and participate with a group of children as if it were a picnic. But as soon as I got a positive test result three years ago, I began to feel shivers up my spine. Genetically modified organisms are growing right in front of our faces. There are schools and residential areas nearby, and there are also fields. What would happen if there were crosses with flowers in a flower bed, or in a kitchen garden, or a field crop? What if I put it in my mouth? The more I thought about it, the more frightened I became, and my attitude toward the monitoring changed. I decided we had to deal with this more seriously."

Every year, Ms. Masuda and her colleagues conduct walking surveys of the routes from JR Shin-Sugita Station to Isogo Station and from Honmoku Depot (a Seikatsu Club store) to Honmoku Civic Park.

"This year, there were few volunteers, only about five plants in total on both routes, but there were positive test results on both routes, a total of three samples testing positive." Children, mainly elementary school students, participated in the survey. They listened carefully to an explanation by Mr. Sumito Hatta, a member of the Nouminren (Japan Family Farmers Movement) Food Research Laboratory, who had been asked to accompany the children, and then everyone set off to perform the monitoring.

Ms. Masuda said, "In the simple preliminary test, each child used the kit to extract samples from the leaves and observed changes in the test paper. When a positive test was found, the children were as happy as if they had discovered hidden treasure. Children do not yet fully understand the environmental impact of GM crops, but we hope that through this experience they will be able to take action that will prevent further pollution of the environment. As adults, we must continue our small activities to prevent this unnatural environmental impact from spreading and to avoid bequeathing a polluted Earth to our children."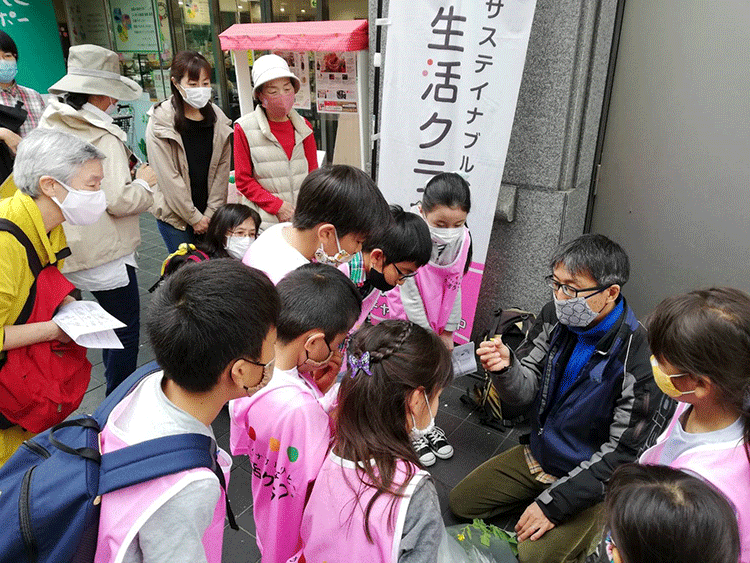 Children listening attentively to an explanation by Mr. Sumito Hatta of the Nominren Food Research Laboratory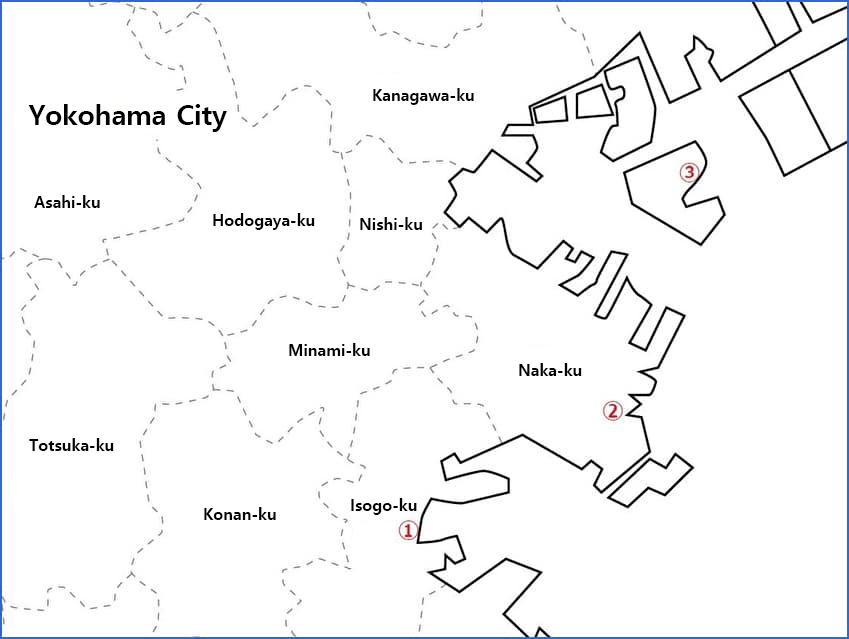 Locations where rapeseed was found: 1) Shin-Sugita Station to Isogo Station. 2) Honmoku Depot to Honmoku Civic Park, and 3) Oguro Wharf
GM mustard greens discovered in Sapporo
In Hokkaido, last year's survey found GM rapeseed for the first time in Otaru Port, which has no past record of importing rapeseed. This year, Seikatsu Club Hokkaido conducted a joint survey with the Port and Harbor Section of the Port Department of Otaru City and found one positive sample. In FY2021, based on the results of the previous year's survey, when Seikatsu Club Hokkaido called on not only leading members but all the members of the local Seikatsu Club to participate in a broad survey of rapeseed volunteers, Basta-resistant mustard greens were discovered growing in the grounds of a park in Sapporo City. This is thought to have been the result of a cross with GM rapeseed.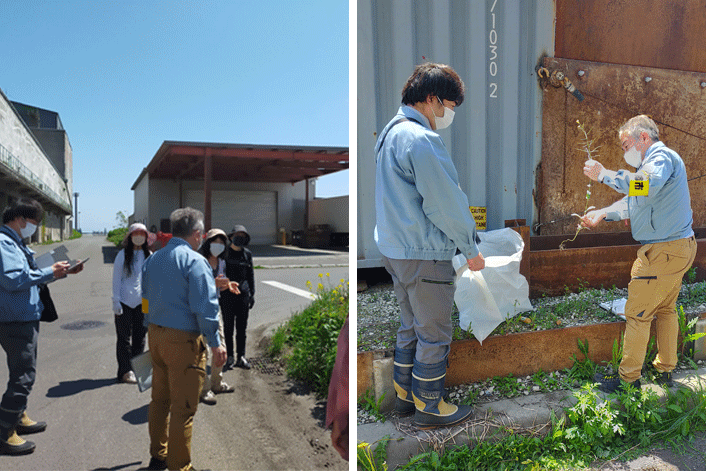 Joint survey with Otaru City Port Department, Port and Harbor Section. Right: The man is holding a GM rapeseed plant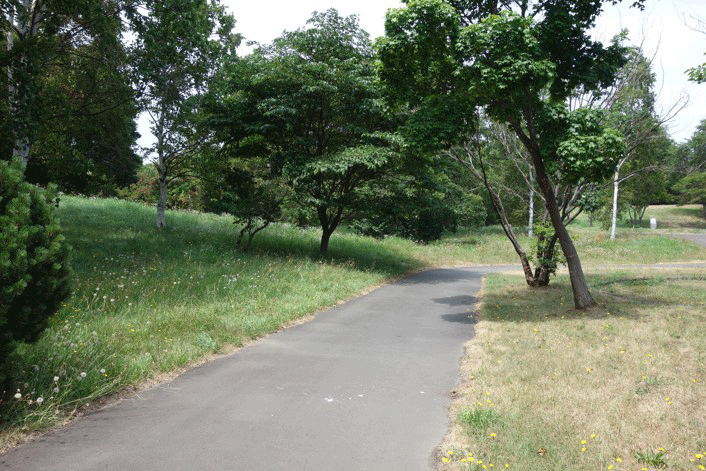 The grounds of the park in Sapporo City where Basta-resistant mustard greens were discovered
"The PCR test was also confirmed to be positive. In the near future, Seikatsu Club Hokkaido plans to report to and call on local governments and the Ministry of Agriculture, Forestry and Fisheries to request them to investigate and take measures to prevent the spread of GMOs." says Ryoko Izawa of Seikatsu Club Hokkaido.

At the briefing session to be held in the Japanese Diet on September 30, we plan to give a report that includes this matter and ask questions about the measures the government is taking.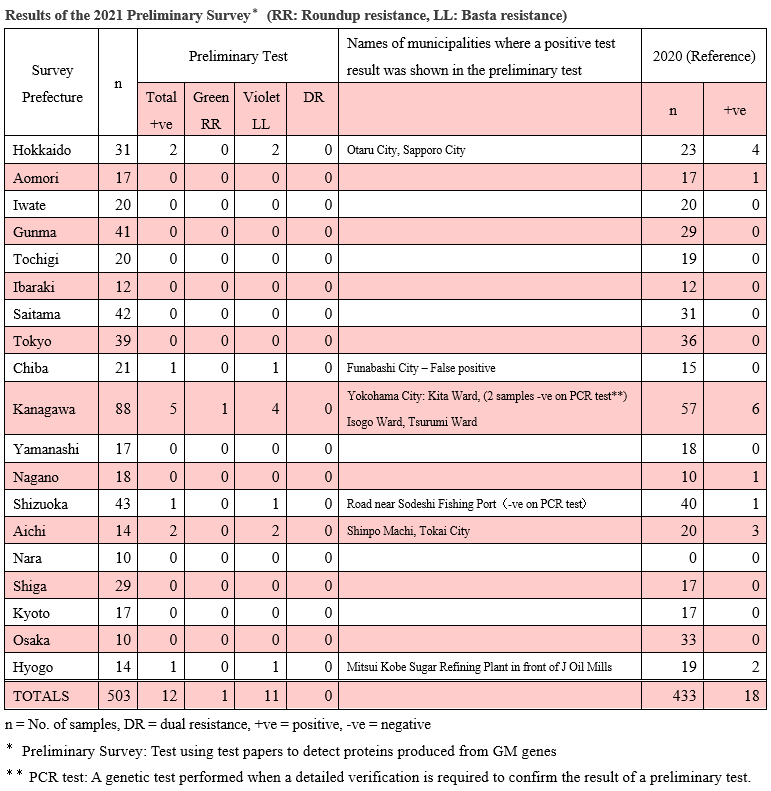 Published on September 1, 2021
生活クラブをはじめませんか?
42万人が選ぶ安心食材の宅配生協です
資料請求で
選べる無料プレゼント!

詳しくはこちら