The Sale of Bulk Liquid Soap has Begun!
Priority Goal 3: The Sale of Bulk Liquid Soap has Begun!
Fun Zero-Plastic with Depot Shakujii's Clever Plan
Sustainable Practices Together with Everyone Involved with Seikatsu Club: The Seikatsu Club 2030 Action Declaration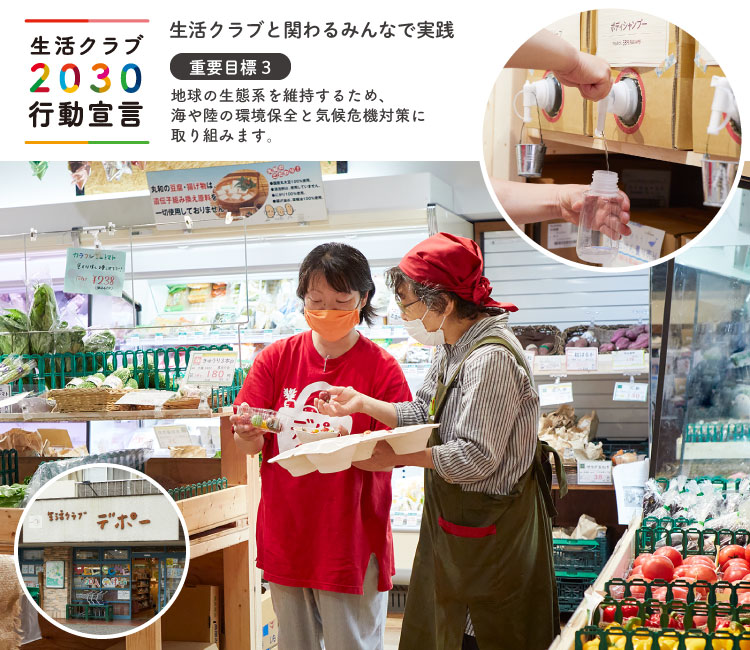 Ms. Naoko Matsuoka (left), Vice Chairperson of the Local Management Committee, and Ms. Yukiko Motoyama
The "Seikatsu Club 2030 Action Declaration" upholds 11 goals that aim for the realization of a sustainable future. Priority Goal 3 concerns environmental conservation of the sea and land as well as measures against the climate crisis. As one part of these efforts, a few Seikatsu Club shops, called depots, began to sell bulk liquid soap in August 2022. Unlike the usual method of buying a refill that comes in a package, this makes it possible to further reduce plastic waste, as members bring their own containers to the depot to purchase just the amount of liquid soap they need. The three depots that have introduced the new sales method are the Tokyo Depot Shakujii, and the Kanagawa Tsunashima Depot and Depot Chigasaki.

At Depot Shakujii, the staff of the Workers' Collective Suguri (hereafter, "Collective"), consisting of local members and the business operator, have been pooling their ideas to devise ways of reducing plastic waste. We talked to the Collective's Ms. Yukiko Motoyama, who has been involved with the management of the depot since it opened 15 years ago.



Please see this page for more details on the 2030 Action Declaration





Action Person

 Ms. Yukiko Motoyama of the Workers' Collective Suguri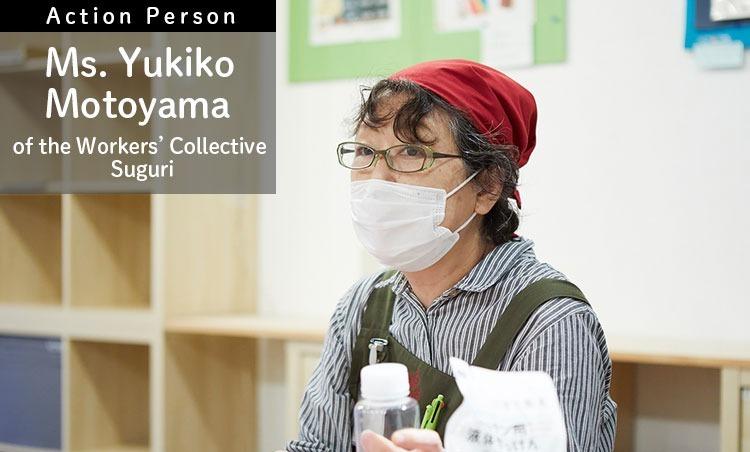 The Long-Awaited Launch of "Bulk Liquid Soap"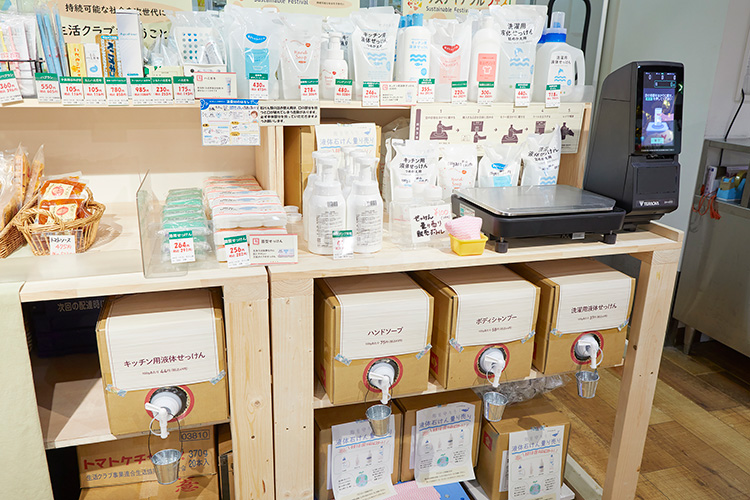 The newly installed bulk counter in the center of the depot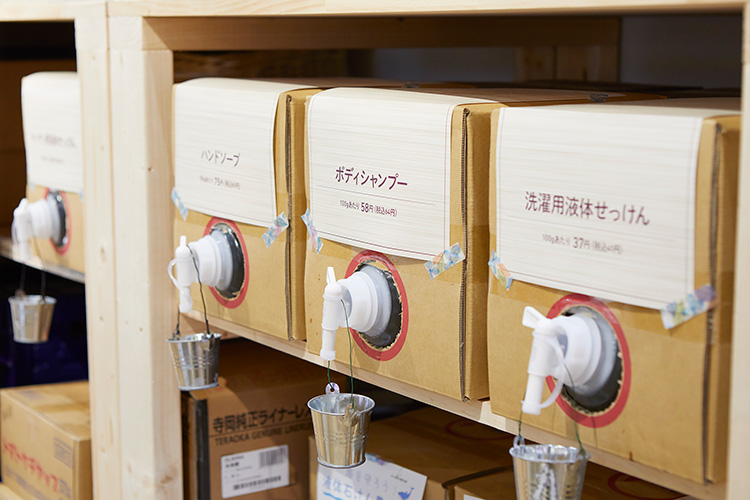 The cute little buckets hanging from the taps are an idea thought up by a local member to prevent liquid soap dripping onto the floor
Depot Shakujii, located in a residential area of Nerima Ward, Tokyo, is a store loved by many members who have continued to shop here over the years. A cheerful "irasshaimase" ("welcome") greets you as you walk into the store. Ms. Motoyama says, "I always try to exchange a few words with everyone who comes to the depot. There are a good number of members whose names I know and who call me by my name when we talk, and there are also people who come in for a chat," reflecting the comfortable, at-home atmosphere of the depot. Inside the store, we can see a large number of handmade items here and there, such as signs calling on members to reduce the use of plastics, enhancing the warm atmosphere of the depot.

Four varieties of bulk soap—hand soap, body shampoo, liquid soap for the kitchen, and liquid laundry soap—have been launched at Depot Shakujii. Ms. Motoyama, the staff of the Collective and Seikatsu Club members, who have come up with small ideas to reduce plastic waste as far as possible, have been wanting to implement this sales method for a long time.

When the depot announced that it was about to introduce the sale of bulk soap, it seems there were members who were adjusting the timing of purchases to coincide with the first day of the sales. While this initiative has only just begun, Ms. Motoyama and her companions intend to take this opportunity to continue to tell everyone about the benefits of this environmentally-friendly soap and expand the numbers of people who are able to share in these efforts. "The advantage of bulk buying is that members can buy just a little of the soap to try it out for themselves, so I would like to recommend this to everyone as a convenient way to buy liquid soap."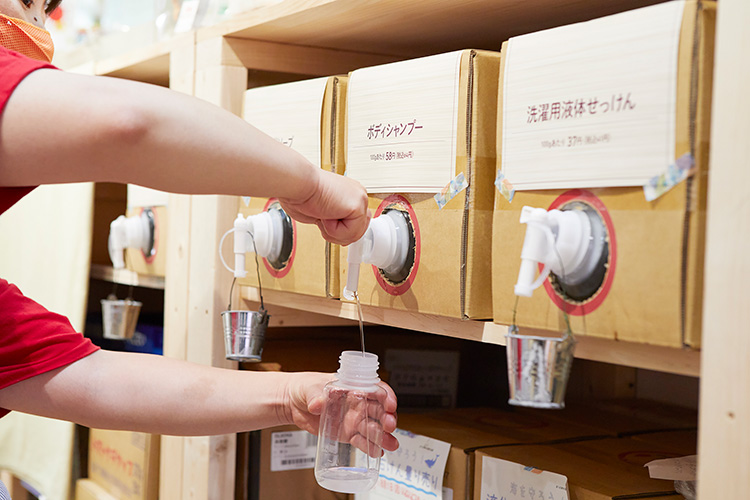 The empty container is weighed first and then weighed again after filling it with soap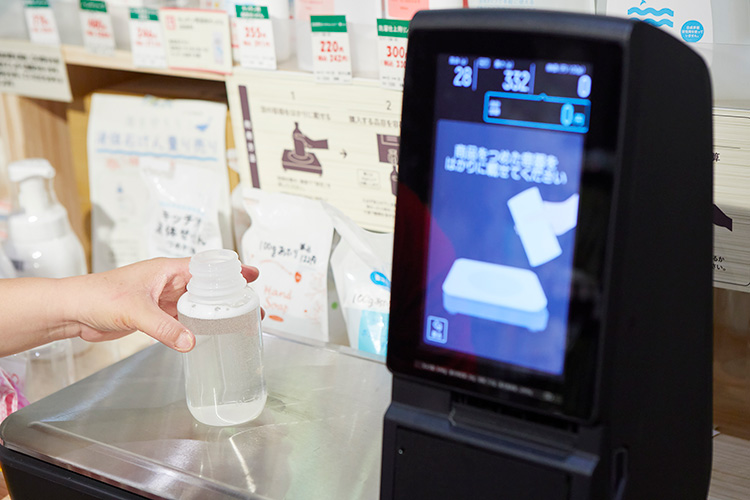 Bulk soap is available at Kanagawa's "Tsunashima Depot" and "Depot Chigasaki" as well as Depot Shakujii
"Fun Zero-Plastic" Practice by Companions with no Compulsion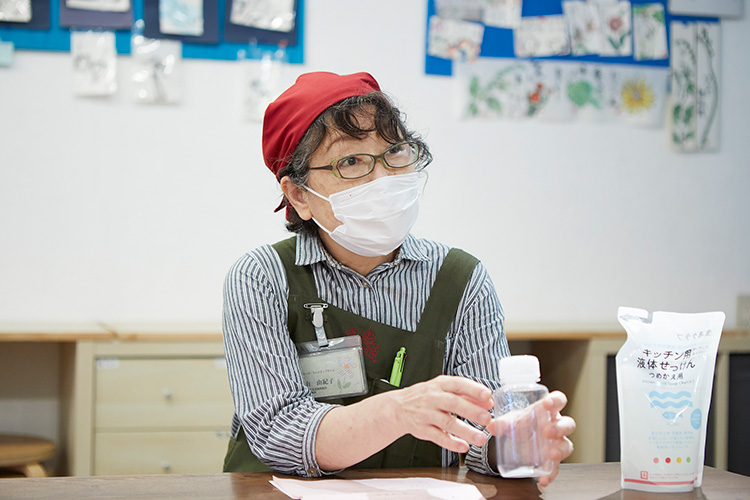 フMs. Yukiko Motoyama, the floor manager, sympathizes with Seikatsu Club initiatives and enjoys promoting them at the depo
Besides the bulk soap, Depot Shakujii is also making efforts to reduce the use of various kinds of plastics in the store. Some of these are due to ideas by members and some of them have been realized through day-to-day resourcefulness by the depot's staff.

"Thinking about the future, we must reduce our use of plastics, and I think it's necessary to make proposals for ideas to push forward in order to enable this. But we don't feel this as something compulsory at all, and anyway, everyone thinking about the issue and coming up with ideas together is fun," says Ms. Motoyama.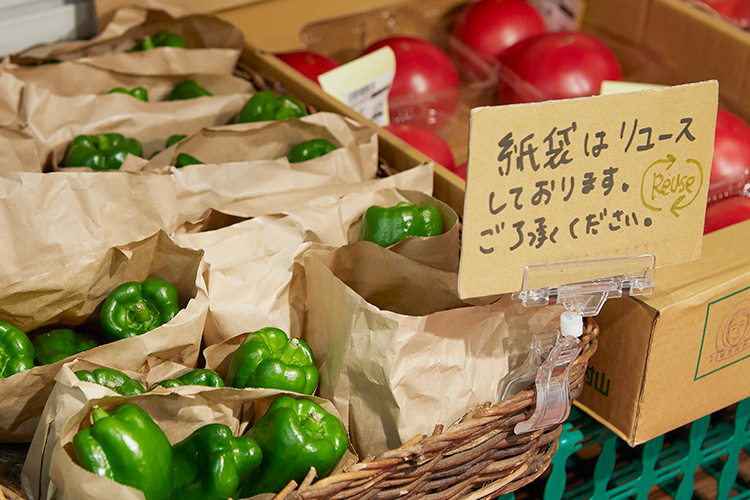 Waste is reduced as far as possible by reusing paper bags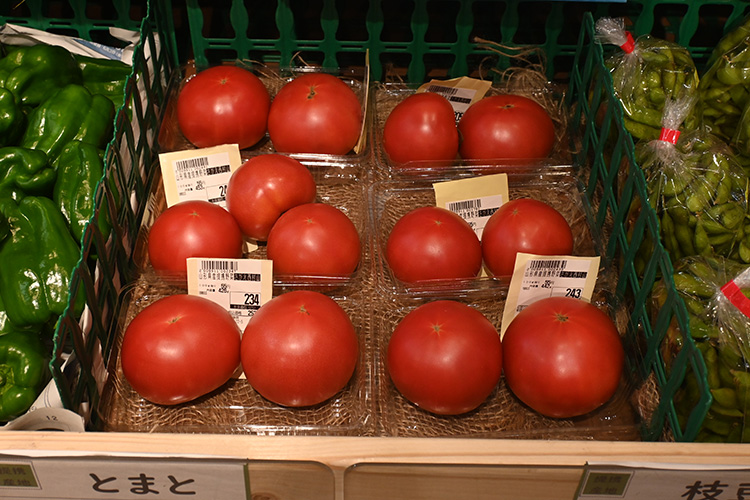 Plastic trays for vegetables are returned when members buy the produce. Labels can be used repeatedly by inserting them into trays rather than sticking them on.
For instance, at the vegetable display, onions and bell peppers are carefully wrapped in paper bags rather than in plastic. Members hand back the plastic trays used for tomatoes to the sales staff at the counter, and the trays are then reused inside the store.

This practice of returning the vegetable plastic trays has now firmly taken root in the depot, about one year since it began. "The members now return the trays without having to make any special effort to tell them about it. We sometimes find that members have dropped trays in in our reuse bin that are different from the ones we use here. I think everyone feels a bit fed up with disposable plastic items," said Ms. Motoyama with a chuckle. "I try as much as possible to tell each and every member who comes to the depot about reducing the use of plastic. I try to be careful to say something like 'I'd really like to cut down on plastic waste' so as not to be too pushy. Since everyone says 'Yes, that's a good idea,' I just say a few words to encourage them to try doing that at home as well."
The Store and Users Working toward "Zero-Plastic" Together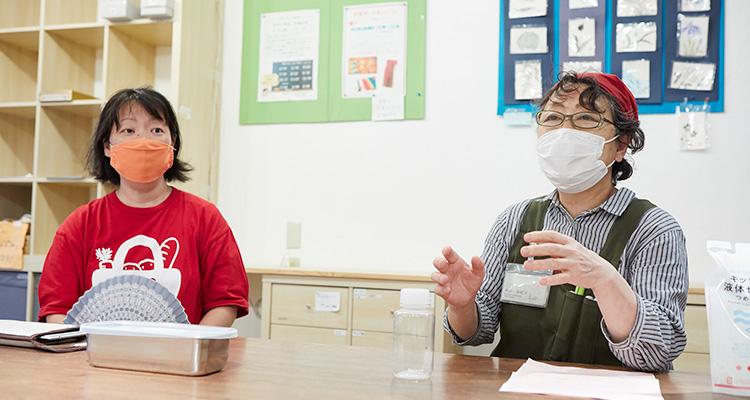 Ms. Matsuoka (left) and Ms. Motoyama
"Some of the ideas come about among the members of the management committee in this area networking together using SNS. When someone says, 'This is what is happening in other places,' the members who like the idea put it into practice immediately," says Ms. Matsuoka, Vice Chairperson of the North Tokyo Seikatsu Club Management Committee, which is actively involved in the management of the depot. Together with the members of the Management Committee, Ms. Matsuoka is making various proposals for reducing the use of plastics at Depot Shakujii.
Many different initiatives are being realized at the depot with everyone feeling that they want to push forward with whatever they can do. An example is the cloth share bags that can be used by anyone who comes to the depot to buy something. These are bags that can be freely borrowed when someone has come to the depot and bought some items, but has forgotten to bring their shopping bag with them. The group of friends that made the bags are called the "Chikuchiku Squad," and when the members called for participants, more than 200 bags were produced. The people who made the bags did not just work as volunteers, but were presented with coupons that could be used to buy things at the depot. The mechanism by which the bag makers would also feel happy was born out of the ideas thought up by everyone.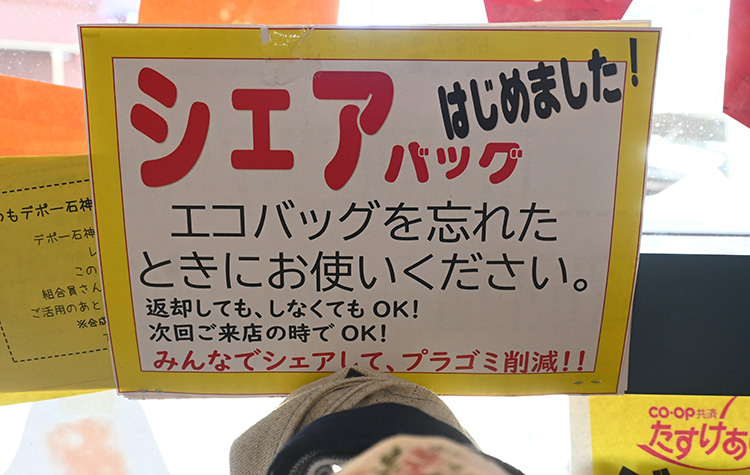 Cloth share bags that can be borrowed from the store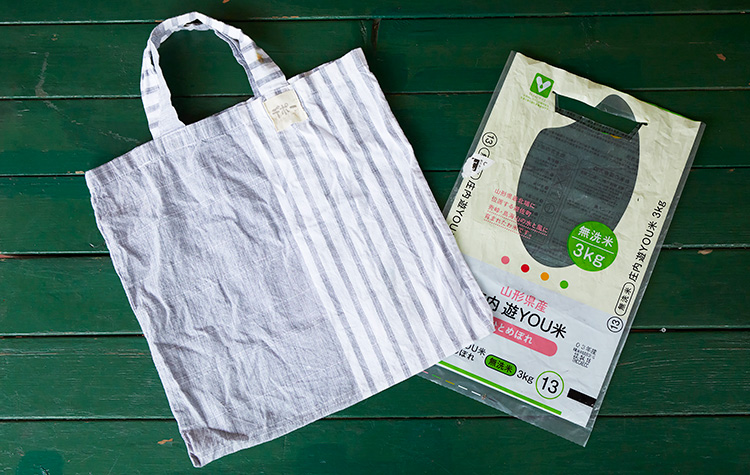 Strong "rice bags" made from paper rice sacks are also available in the store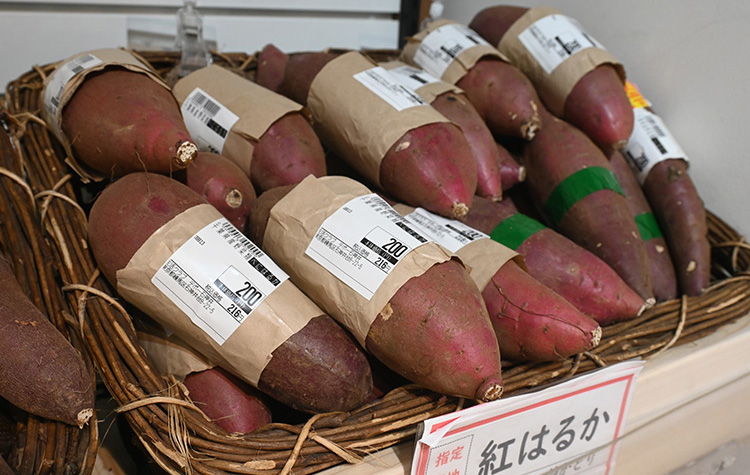 Another idea to reduce plastic wrapping that was born out of the daily trial and error of the Collective was to stick the label seals on a paper band placed on sweet potatoes or which holds runner beans together in a bunch.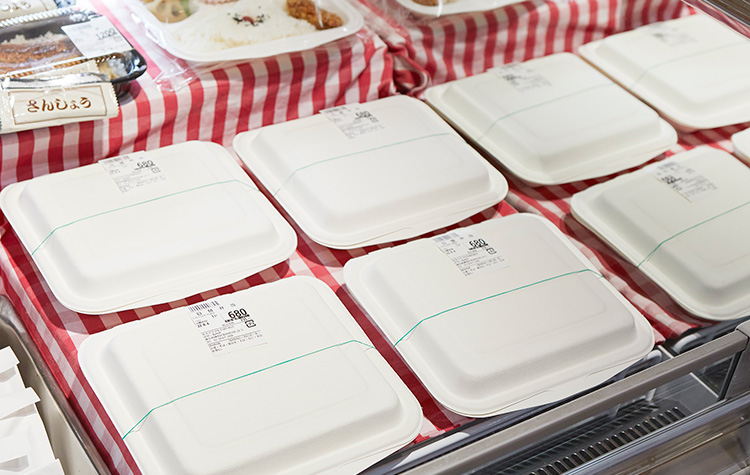 The material for these lunch boxes is bagasse, made from sugar cane fiber
"Zero-Plastic" Efforts being Made by Seikatsu Club as a Whole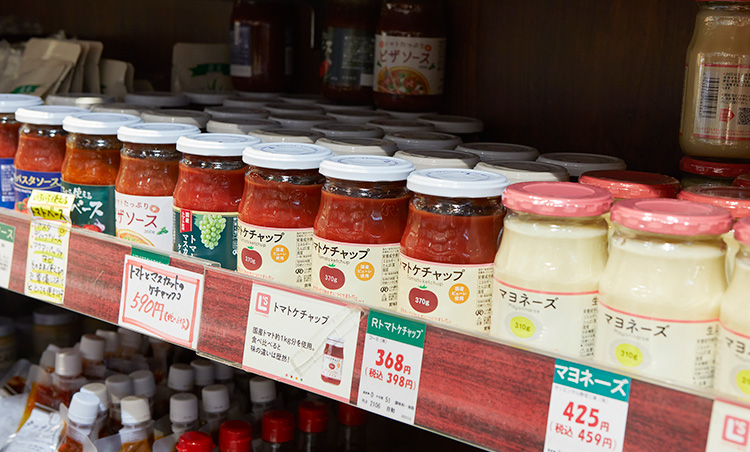 Many of the seasonings and fruit juices sold in the depot are packaged in reusable bottles and jars.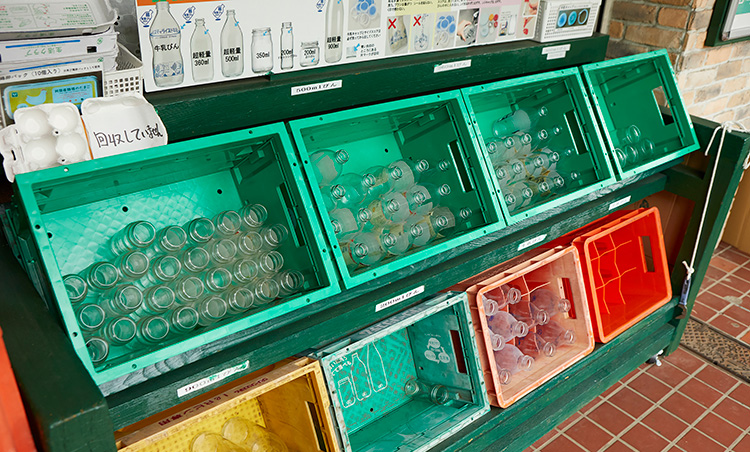 Members return empty reusable bottles and jars in front of depots or when they take deliveries.
Seikatsu Club is putting various initiatives into practice along with other people involved with Seikatsu Club, such as our partner producers. The bulk soap is also a project that was brought to fruition together with one of Seikatsu Club's partner producers, SK Soap Co., Ltd. The person in charge of the project at SK Soap Co., Ltd., Mr. Motoyuki Kiso, also feels that the bulk soap system is a big step forward.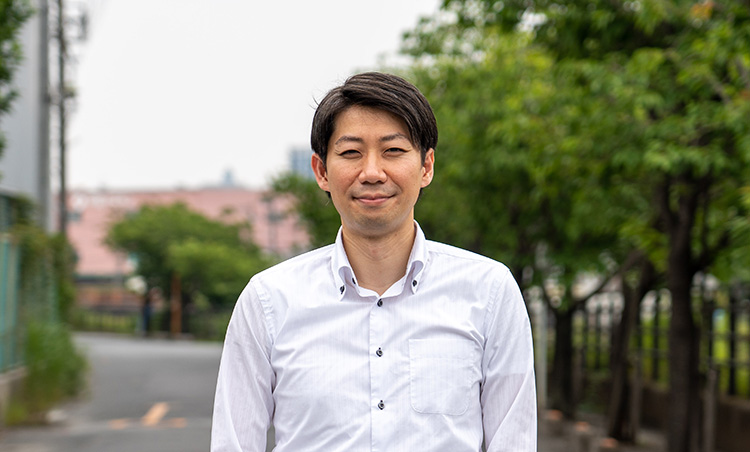 Mr. Motoyuki Kiso of the SK Soap Co., Ltd.
Mr. Kiso said, "This project is the first of its kind for our company, and I am delighted that it has now been realized at the depots. This has come about through close communication with Seikatsu Club in which we had to study and consider the method for package labelling as well as hygiene from scratch. I feel that this new system is a big step forward toward reduction of plastic used for container packaging, which has become an issue recently.

"I very much hope this initiative will act as a trigger for raising awareness about environmental problems and similar topics. We intend to continue our trial-and-error efforts in the future, and as we wish to make this system easier to use we hope that many people will use the bulk buying system at the depots and let us know their feelings and opinions about the system."
Seikatsu Club is also taking action on other plastics-reduction initiatives besides this bulk soap system. For instance, the reuse of bottles and jars for seasoning, fruit juices and other products, which we have been working on since 1994, is also one of these initiatives. In addition, we are also continuing to reduce the use of plastics from various angles, such as choosing paper containers and changing to more compact packages.


Examples of consumer product packaging renewals heading toward zero-plastic: Bio-support food set, deep-fried horse mackerel, meatball hot pot set, corn and sweet potato potage, and Keema curry.
Increasing heatwaves, droughts, torrential rain, natural disasters… As we now sense the impacts of climate change in places close to us, more and more people are thinking about zero-plastic in their day-to-day lives. Won't you take some action against environmental problems by devising ideas for things you can do yourself, just as the Depot Shakujii is doing?
Posted on October 5, 2022
生活クラブをはじめませんか?
42万人が選ぶ安心食材の宅配生協です
資料請求で
選べる 無料 プレゼント!

詳しくはこちら