National Exchange Meeting of the GMO Free Zones
National Exchange Meeting of the GMO Free Zone Movement in Tokyo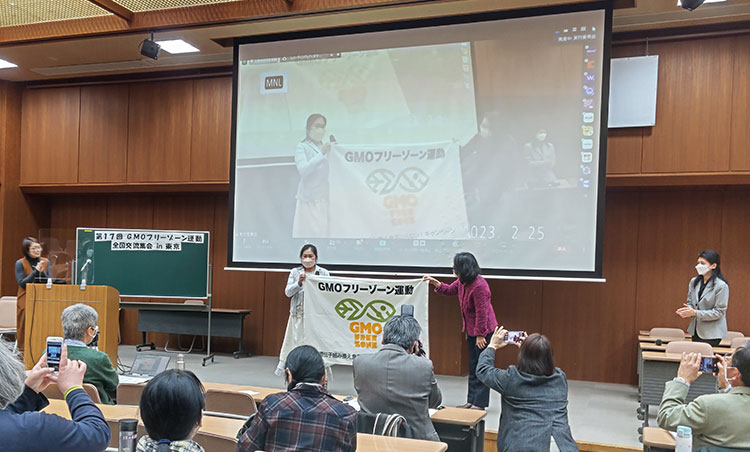 Passing on the GMO Free Zone flag to Kumamoto, next year's venue

The 17th National Exchange Meeting of the GMO Free Zone Movement in Tokyo was held on February 25 to the theme of "Let's Build a World Free of both Genetic Modification and Genome Editing from the Great Consumer Area of Tokyo." 63 persons, including online participation, took part in the event from Seikatsu Club

*GMO = Genetically Modified Organism
GMO Free = No production of genetically modified crops
No Production of Genetically Modified or Genome-Edited Crops!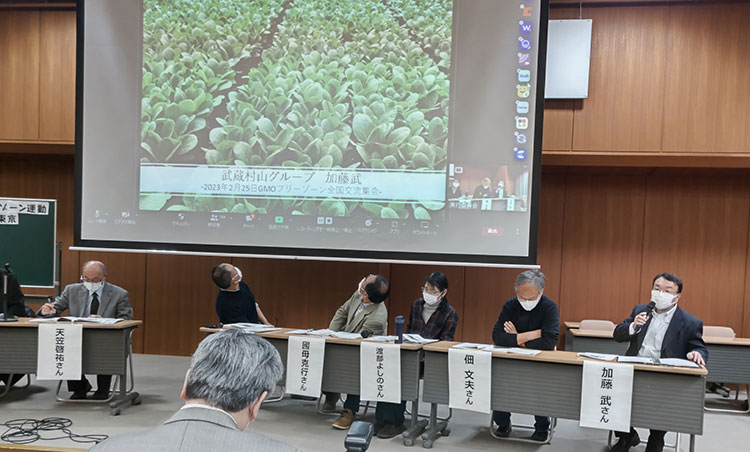 Mr. Takeshi Kato of "Agriculture and Security Network" (far right)

Firstly, at the panel discussion, entitled "Let's Build a World Free of both Genetic Modification and Genome Editing," Mr. Keisuke Amagasa (representative of the No! GMO Food Campaign) gave an explanation about the current state of GM and genome-edited food. Following this, four farmers gave reports on topics such as organic farming, in-house seed saving, opposition to GM crops, partnerships, and consumer ties.

One of these farmers, Mr. Takeshi Kato from Musashi Murayama City, is a member of the "Agriculture and Security Network," a Seikatsu Club partner producers' group. Producing komatsuna (Japanese mustard spinach) and leaf lettuce by non-pesticide, non-synthetic fertilizer cultivation, Mr. Kato markets his produce mainly to Seikatsu Club and the city's school meals center. "I was invited by a friend who is a Seikatsu Club partner producer, and being in favor of the principle of 'local production for local consumption,' I joined the partnership in 1995," says Mr. Kato, who erected a "GMO Free Zone" signboard by his fields quite a few years ago.
Action opposing the nationwide distribution of genome-edited tomato seedlings to elementary schools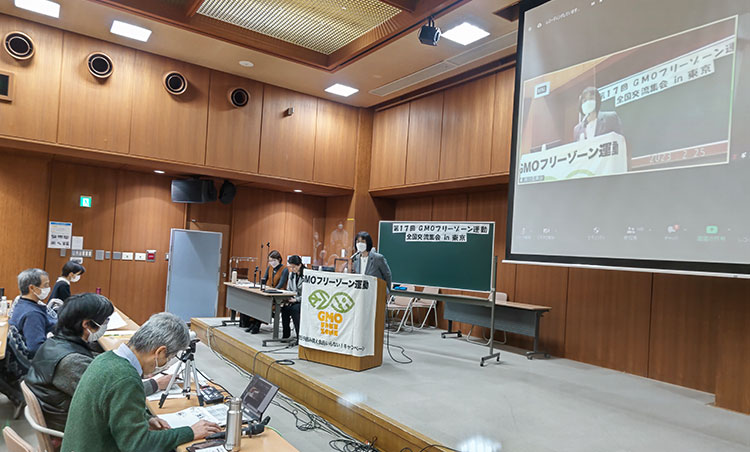 Ms. Kazumi Masuda reporting on the actions by Seikatsu Club
One of the highlights of this year's meeting was the reports on the nationwide actions to oppose the distribution of genome-edited tomato seedlings to elementary schools. Firstly, Mr. Yoshimasa Harano (OK Seed Project) reported on the background and current state of the issue. The tomato in question is genome edited to increase the content of GABA, which is said to "lower blood pressure." It was developed by Sanatech Seed Co., Ltd., a venture company set up at Tsukuba University and marketed by Pioneer EcoScience Co., Ltd. This became the first genome-edited food to be placed on the Japanese market after The Ministry of Health, Labour and Welfare and the Ministry of Agriculture, Forestry and Fisheries accepted a "notification" of marketing in December 2020. Currently, the tomato is available from Internet stores as fresh produce, seedlings, and tomato puree.
Mr. Harano said, "It was in September 2021 that it became clear that there was a plan to distribute the seedlings to welfare facilities and elementary schools free of charge. That was learned from a presentation by Sanatech Seed Co., Ltd. and Pioneer EcoScience Co., Ltd. CEO Tatsuo Takeshita at an international online seminar organized by the London office of the US Department of Agriculture. Mr. Takeshita reported that seedlings would be distributed free of charge to welfare facilities from 2022 and to elementary schools from 2023."
In opposition to this plan, Seikatsu Club lobbied municipalities and elementary school in FY2022 to ask them not to accept the seedlings. At the meeting, Ms. Kazumi Masuda (Chairperson of the Board of Directors of Seikatsu Club Tokyo) reported that "Learning from the activities of Seikatsu Club Hokkaido, who had kicked off the first action, we made lively efforts, with each of the local Seikatsu Club coming up with new ideas. As a result, no municipalities or elementary schools responded that they would accept the seedlings. I think there was great significance in communicating this issue to municipalities and elementary schools." Ms. Kazumi Takehira (Director of the 23-Ward South Seikatsu Club) also reported on the activities in her local district of Edogawa Ward.
Activities by other consumers' co-operatives nationwide were also reported and a summary of their activities has been published on the OK Seed Project website.
Let's protect seeds and food! OK Seed Project
"Concerning the Issue of Distribution of Genome-Edited Tomato Seedlings to Welfare Facilities and Elementary Schools: 4. Summary of Responses to Our Request from Municipalities"
https://okseed.jp/genometomato.html
(In Japanese)
2023 GMO Free Zone and Supporter Registration
Seikatsu Club has added a new area of 12.1 ha to the GMO Free Zone and 742 new supporters. Nationwide, 883 ha of new farmland and 1,940 new supporters have been registered.
List of GMO Free Zone Area and Number of Supporters by Prefecture (FY2021-FY2022)
(Japanese PDF file)
The 2024 GMO Free Zone Movement National Exchange Meeting will be held on February 24 in Kumamoto, where the genome-edited tomatoes are being grown.
[Published on May 8, 2023]
生活クラブをはじめませんか?
42万人が選ぶ安心食材の宅配生協です
資料請求で
選べる 無料 プレゼント!

詳しくはこちら