Recycling Waste Edible Oil for Soapmaking
Priority Goal 1: Partial Shift of Raw Material Sourcing from Imported Palm Oil to Domestically Recycled Waste Edible Oil – Taking up the challenge of domestic production with soapmaking
Sustainable Practices with Everyone Connected to Seikatsu Club: Seikatsu Club 2030 Action Declaration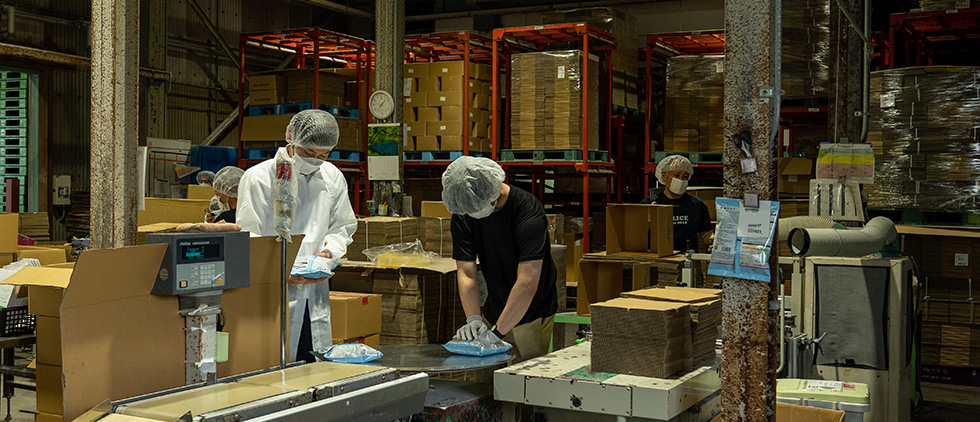 In the Seikatsu Club 2030 Action Declaration, Seikatsu Club defined the 11 Priority Goals that we should strive to attain by 2030, and everyone connected to Seikatsu Club, including the members and producers, are engaged in practical efforts consistent with, and that even go beyond, the vision of the SDGs. Priority Goal 1 aims for sustainable domestic self-sufficiency and fair procurement by 2030. As one part of these efforts, SK Soap Co., Ltd., a partner producer of Seikatsu Club for around 50 years, has renewed the manufacture of a part of its consumer materials to be more in line with Priority Goal 1 since July this year. We talked with Mr. Motoyuki Kiso, the person in charge of this renewal.
Please follow this link for more details on the 2030 Action Declaration
Action Person
SK Soap Co., Ltd., Motoyuki Kiso
The SK soap factory (left) in Kawaguchi City, Saitama Prefecture. Mr. Kiso holding a pack of the renewed soap (right)
Renewed soapmaking using recycled raw materials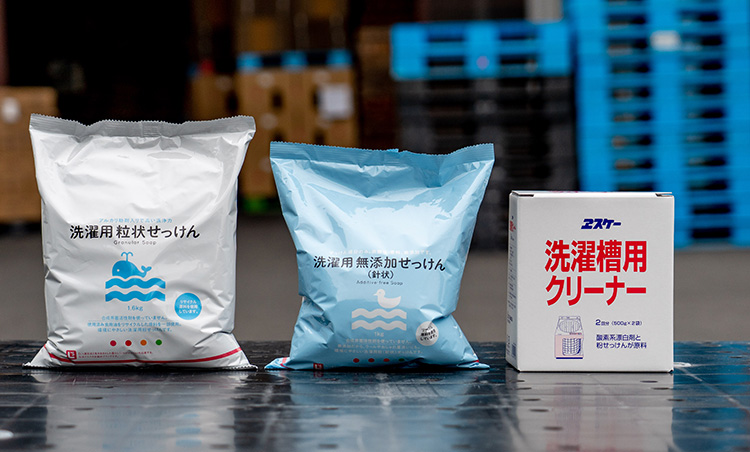 The three renewed consumer materials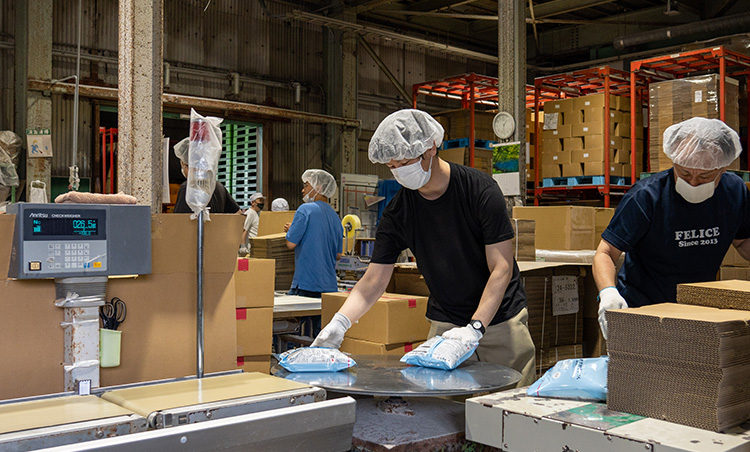 The renewed consumer materials on the production line. There are many people working on the production lines in the factory.
The consumer materials that are now using the recycled raw materials, waste edible oil, are the "Granular Laundry Soap," the (Needle-shaped) Additive-free Laundry Soap," and the "Washing Tub Cleaner."

Mr. Kiso told us, "The raw material for soap is fatty acid, and nearly all of our products use fatty acid made from palm oil. In the three products that have been renewed this time, about 70% of the fatty acid derived from palm oil has been replaced by recycled fatty acid refined from waste edible oil. I would like to ask you to definitely inform all your members about the significance of this 'close-to-home kind of recycling' where the soap we use every day is produced from recycled raw materials.
We are aiming to reduce the use of palm oil and engage in fairer procurement
One of the most important reasons for the change are the global issues surrounding palm oil, which is a vegetable oil obtained from tropical oil palms. This oil has many applications other than in soap, for instance, in food, cosmetics and biofuels. It is the most widely used vegetable oil in the world and is indispensable for our everyday lives. While it is a very convenient material, there are many problems with it from the viewpoint of fair procurement, such as the realities of deforestation for rapid expansion of plantations and oppressive labor environments in the Southeast Asian countries that are the main producers of palm oil.
Please follow this link for more details on the issues surrounding palm oil
 (Japanese)
Mr. Kiso points out that it is not just the palm oil itself but the production process that is the problem. "Further, from the perspective of the SDGs' 'responsible consumption and production,' I would like to show greater consideration for the human rights of the people who are engaged in the production of palm oil and aim for raw material procurement that is based on agreements with them. At the same time as we continue with our sustainable raw material procurement, one of the solutions we have come up with this time for substitute raw materials is to make use of recycled fatty acid from waste edible oil as raw material."
Using recycled waste edible oil will lead on to the effective use of resources.
"I think that by reusing oil that has been used inside Japan rather than simply throwing it away we gain a further option for domestic procurement of sustainable raw materials."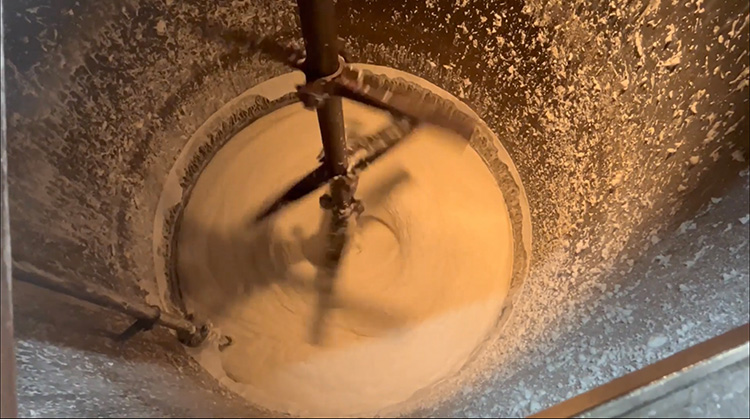 Production process of soap at SK Soap Co., Ltd.: Fatty acid, water and caustic soda are reacted together in a vat.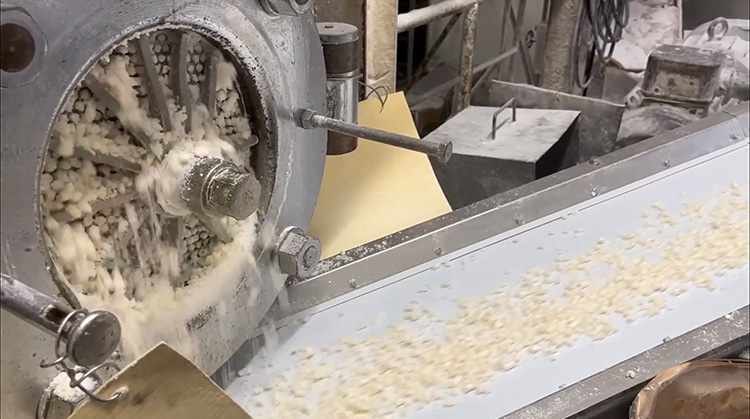 The resulting material then passes through the drying process to produce raw soap.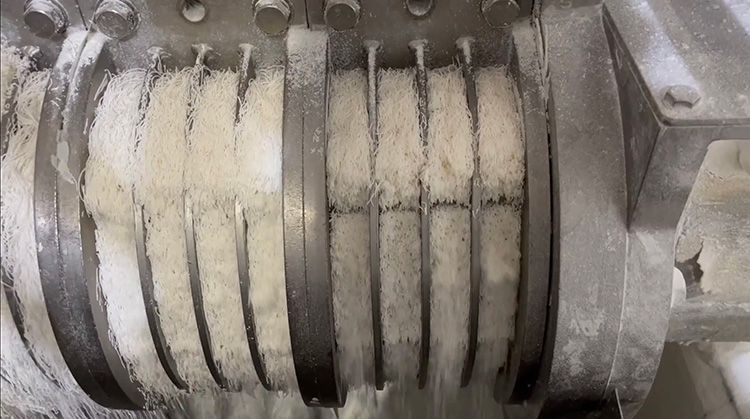 The raw soap is then processed in accordance with its final use. (Photo shows the production of the needle-shaped soap)
Waste edible oil refined into recycled fatty acid used as one part of the raw materials
The recycled fatty acid is edible oil that has been collected after use as cooking oil in restaurants, food factories, and so on, and then undergoes a high-purity refining process. Many years of hard work went into developing the high-quality fatty acid suitable for soap, but the quality was improved with cooperation from an oil manufacturer that refines waste edible oil.

Mr. Kiso says that working together with the cooperating firm made it possible to use waste edible oil to develop fatty acid suitable for soap which is in no way inferior to the soap they have been making thus far in terms of cleansing ability. "The heightening of the awareness of the social significance of SDGs, and also everyone understanding about putting waste edible oil to use were the factors that brought about the realization of this renewal. At the hearing for the experimental samples, there were comments about the color and aroma of the soap, but at the same time many people also voiced their opinions of approval for the utilization of waste edible oil."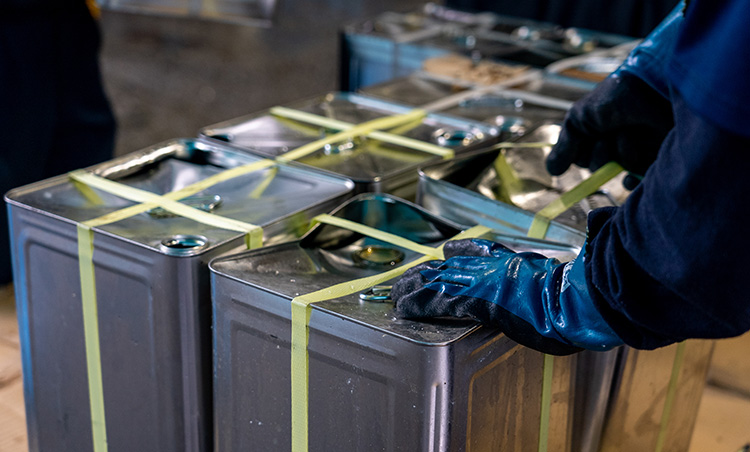 Food oil (waste edible oil) used for cooking collected from restaurants and food factories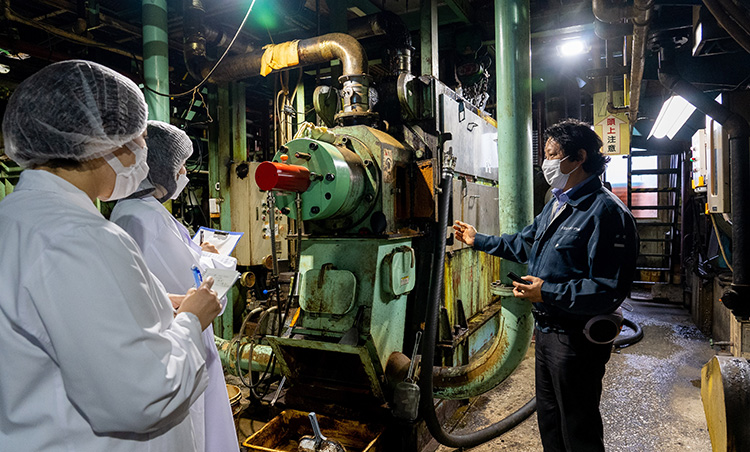 The collected oil is filtered and undergoes a separation process at a factory such as the Tokyo Rendering Cooperative. The oil undergoes further processing at an oil manufacturer, Tsuno Food Industries, and then passes through an advanced refining process. (Photo: Tokyo Rendering Cooperative)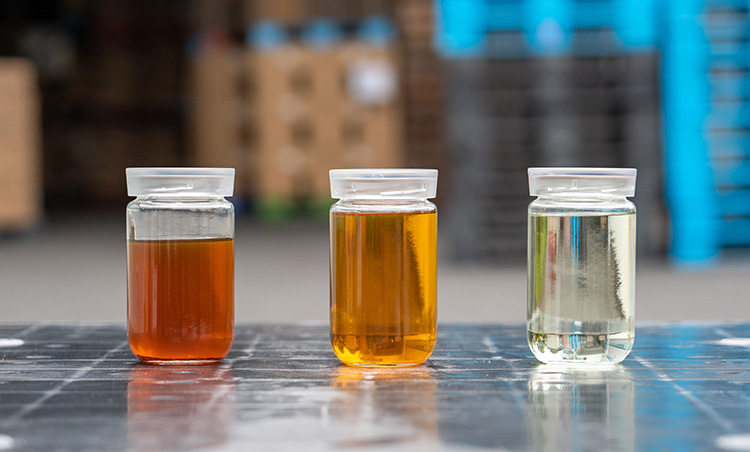 From the left: waste edible oil before processing, waste edible oil processed by a waste edible oil processer, and recycled fatty acid refined by an oil manufacturer.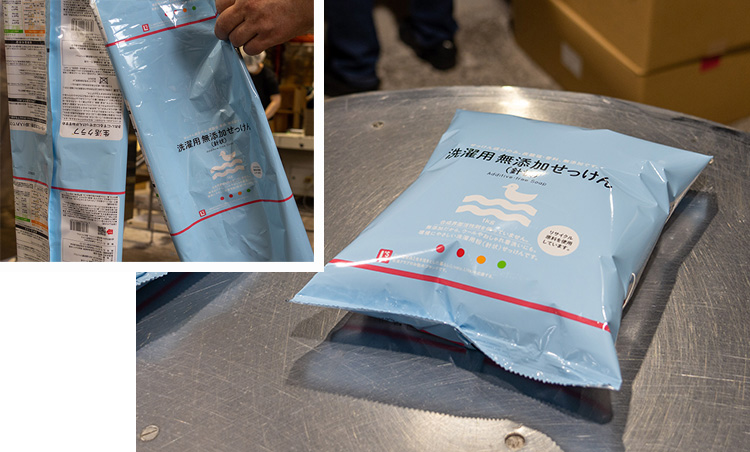 The packaging was also renewed at the same time. The shape of the package was changed to reduce plastic use by 20%-34%, and recycled PET plastic is used.
Enlarging the circle of sustainability with a close-to-home kind of recycling
Understanding of the significance of using recycled fatty acid in the familiar soap we use every day, and hearing the voices of favorable approval from the members has become a great encouragement for Mr. Kiso

"Although people do not usually notice them, soaps made from recycled fatty acid have been used in familiar surroundings, such as soap for washing hands in industrial and institutional settings. I hope making this soap produced from recycled fatty acid available to everyone will increase people's positive image of recycled fatty acid, and that the significance and understanding of the use of such raw materials will continue to expand."

Mr. Kiso says there are still things he can do to enlarge the circle of recycling.

First of all, not stopping at this renewal, he intends to continue R&D with the aim of implementing more sustainable soapmaking that stresses fairer procurement and consideration for domestic raw material procurement. He would also like to broaden people's understanding of soap itself. "Soap is an environmentally friendly cleaning agent. Soap residue decomposes in a short time after drainage and reacts with minerals in water, even becoming food for aquatic organisms. From these characteristics, since there are no cleansing ingredients remaining after rinsing, there is less burden on the skin. I would like to share with everyone more of the significance of using soap."

"I hope all Seikatsu Club members will try using the new soap, and then please tell everyone around you how good it is."

Mr. Kiso will continue to expand the circle of sustainable soap with the members of Seikatsu Club through this familiar product.

Published on July 25, 2022
生活クラブをはじめませんか?
42万人が選ぶ安心食材の宅配生協です
資料請求で
選べる無料プレゼント!

詳しくはこちら