Right Livelihood Award 40th Anniversary Event
460 Attend Right Livelihood Award 40th Anniversary Event
The event was held under the theme of "How to create a fun and prosperous society with just a small amount of energy - How to change a world in crisis"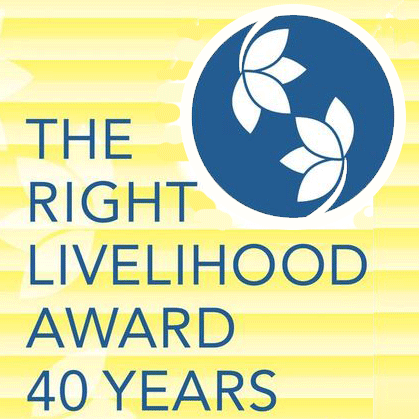 The Right Livelihood Award, established in 1980 by the Swedish-born Jakob von Uexküll, is known as the "alternative Nobel Prize." In 1989, the Seikatsu Club Consumers' Co-operative Union was awarded the prize for "creating the most successful, sustainable model of production and consumption in the industrialized world." In celebration of the 40th anniversary of the establishment of the Right Livelihood Award, a symposium co-hosted by the Citizens' Nuclear Information Center and the Takagi Fund for Citizen Science was held online on February 20.
The Power to Change the World by Connecting People Together
This event, originally scheduled to be held in April last year, but postponed due to the novel coronavirus crisis, was held online in four parts. At the opening of the event, Ms. Miyuki Kinoshita, a director of the Seikatsu Club Consumers' Co-operative Union, said on behalf of the sponsoring organization, "We planned a symposium to discuss once again the significance of this award, the subsequent social movements, and how we can create the society we are working toward."

Part 1: Introduction of the activities of the award winners from Japan and Korea who participated in this event
Seikatsu Club first showed a video message from Ms. Yuriko Ito, Chairperson of the Seikatsu Club Consumers' Co-operative Union. Looking back on the significance of receiving the award, Ms. Ito said, "It is a source of great pride and strength not only for many of the members of the small Japanese co-operative, as it was at the time, but also for those of us who are still active 30 years later." Ms. Ito also made an appeal for Seikatsu Club by saying that as a result of "activities to spread a new economic and social system to communities through member-led activities," the reason for receiving the award, "Seikatsu Club has become a place where people can express their opinions and connect with each other in the community amidst social divisions."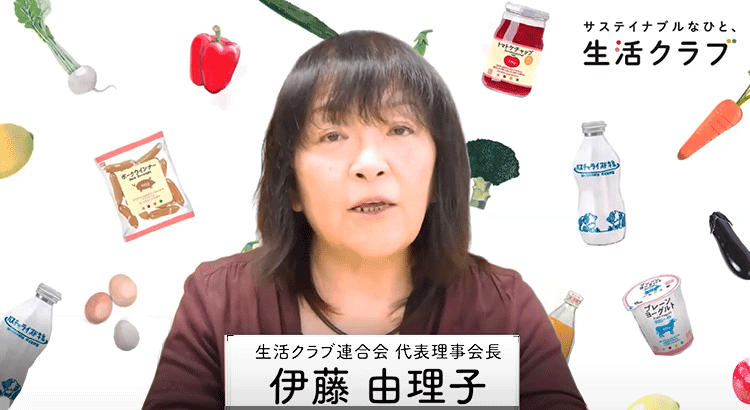 Chairperson Yuriko Ito introducing the Seikatsu Club
Ms. Miyuki Kinoshita then stated that the fundamental idea of the Seikatsu Club is "to create a new mechanism through which members, as consumers, cooperate with producers on an equal footing to create the future they hope for." Ms. Kinoshita also called for solidarity by saying, "The problems facing contemporary society are too great to be solved only by the system created by the Seikatsu Club alone. We would like to increase our connections with like-minded individuals and organizations, reach out to each and every person living in the communities, change our consciousness, and generate a force that will change society and the world."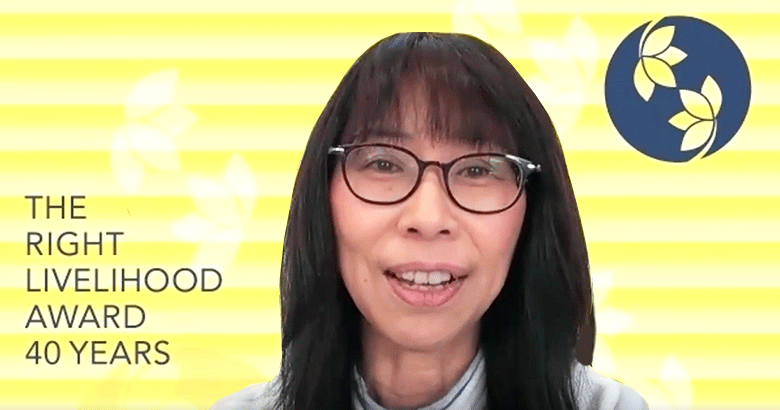 Ms. Miyuki Kinoshita, a director of the Seikatsu Club Consumers' Co-operative Union, giving opening remarks
Ms. Kuniko Takagi, partner of the late Mr. Jinzaburo Takagi (Right Livelihood Award winner in 1997), vividly recalled Mr. Takagi's footsteps while sharing a large number of photos with the participants. Last year was also the 20th anniversary of Mr. Takagi's death. At the end of the first session, a video produced last year by the South Korean Citizens' Coalition for Economic Justice (CCEJ, Right Livelihood Award winner in 2003), which participated online, was shown to commemorate the 30th anniversary of the founding of CCEJ.

Part 2: Lecture by Dr. Yun Sun Cheol, Secretary General of CCEJ
"Economic Justice" in South Korean Civil Society: How Have We Changed Society?

CCEJ was established in 1989, two years after the democratization of South Korea began in earnest in 1987. Upholding the goal of "rectifying the serious economic injustices rampant in South Korean society and establishing and implementing economic justice," CCEJ brings together citizens and experts who are active in a wide range of fields.
A Prosperous Society Built on Renewable Energy and without Nuclear Power Plants
Part 3: Talk session with Ms. Junko Edahiro (Director of the Institute for Studies in Happiness, Economy and Society) and Mr. Shinichi Tsuji (cultural anthropologist)
"How to create a fun and prosperous society with just a small amount of energy - How to change a world in crisis"

We asked the two speakers to talk about the problems facing contemporary society and the kind of society we should move toward in the future. Ms. Edahiro, introducing the practices of the community recycling economy that she has been working on since she moved her base of activities to Atami, said, "Not only is small good (small is beautiful), but it is also important to understand that small things can be profitable. That is, there are economic benefits to be had by making economic activities the right size." Mr. Tsuji cited "fragmentation" as the fundamental problem of our time, and said, "The fragmentation of humans and the environment is what is causing environmental problems. In the name of freedom, people are being cut off from their communities and relationships with other people, making life difficult." He stressed that the future of society would depend on whether we could shift from fragmentation to a rebuilding of relationships.

Part 4: Panel discussion with Ms. Kaoru Sakurai (Seikatsu Club Kanagawa), Mr. Hiroyuki Kawai (lawyer), Mr. Hideyuki Ban (Citizens' Nuclear Information Center), Ms. Junko Edahiro, and Mr. Shinichi Tsuji
"How can we stop nuclear power plants?"
Mr. Kawai, speaking from his 20 years of experience working on lawsuits to stop nuclear power plants, said, "As the world moves toward decarbonization, a huge tide of renewable energy is surging into Japan. If we continue to fight to prevent the restart of nuclear power plants, we can look forward to a peaceful, safe and prosperous society." Mr. Ban has been active in the nuclear fuel reprocessing issue, which he took over from Mr. Jinzaburo Takagi. Mr. Ban, saying, "The nuclear fuel cycle is clearly bankrupt, but we have not yet reached the point of policy change," emphasized that "reprocessing can be stopped with 100% renewable energy and local production for local consumption of energy." As an alternative to nuclear power, Ms. Sakurai reported on the efforts of Seikatsu Club Electricity from the perspective of "contributing to the communities where power plants are located." She also reported on the fact that because Seikatsu Club not only buys electricity but also partners with local producers, the local communities have evaluated Seikatsu Club's wind turbines as "different from other wind turbines."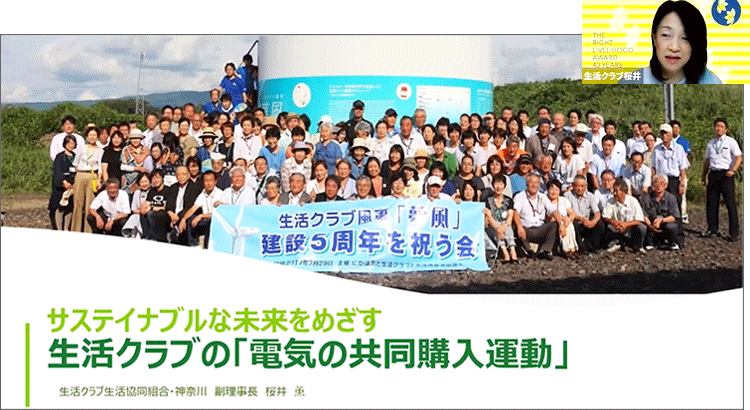 Ms. Kaoru Sakurai, Vice Chairperson of the Board of Directors of Seikatsu Club Kanagawa, introducing the bond between Seikatsu Club Electricity and a community where a power plant is located.
In response to the three speakers, Mr. Tsuji gave a positive comment by saying, "People who are involved in local energy are excited by the fact that they can create their own energy. That realization is accumulating. The outcomes of this movement are wonderful. I would like to make this year, the 10th anniversary of the earthquake, a time to celebrate these achievements." Ms. Edahiro asserted that, "We, the people who are interested in renewable energy, should use our power to choose. I hope we can spread the word so that more people will feel it is better to choose renewable energy."
Ms. Sakurai sent us her impressions after the event had ended. "Even though it was online, and as members' activities are going through a trial and error process during the novel coronavirus crisis, it was very stimulating for me to participate in a talk session with people who are working on the theme of a nuclear phaseout. I even felt nostalgic, since I had organized a screening of Hiroyuki Kawai's movie as a member activity and took part in a study session on nuclear power plants hosted by Hideyuki Ban. I felt energized by the fact that even though different organizations used different methods in their movements, everyone showed exactly the same unchanging passion and dynamism in their work."
A recording of the event can be viewed at the following website of the Citizens' Nuclear Information Center.
https://cnic.jp/22057
Note: The Right Livelihood Award was established in 1980 to honor and support courageous people who solve global problems, and has been presented to 182 individuals and organizations from 72 countries, including Wangari Maathai of Kenya, who spread the word mottainai to the world, and the Swedish environmental activist, Greta Thunberg.
[Related articles]
Right Livelihood Award 40th Anniversary Event: "How to Create a Fun and Prosperous Society with Just a Small Amount of Energy - How to Change a World in Crisis" (Published in Japanese on January 20, 2021)
Right Livelihood Award 40th Anniversary in Bangkok (Published on April 16, 2020) 
[Published on April 28, 2021]
生活クラブをはじめませんか?
41万人が選ぶ安心食材の宅配生協です
資料請求で
選べる無料プレゼント!

詳しくはこちら